Abe in Washington for meeting with Obama
WASHINGTON -- Japanese Prime Minister Shinzo Abe on Thursday arrived in Washington D.C. for the meeting with US President Barack Obama scheduled for Friday at the White House.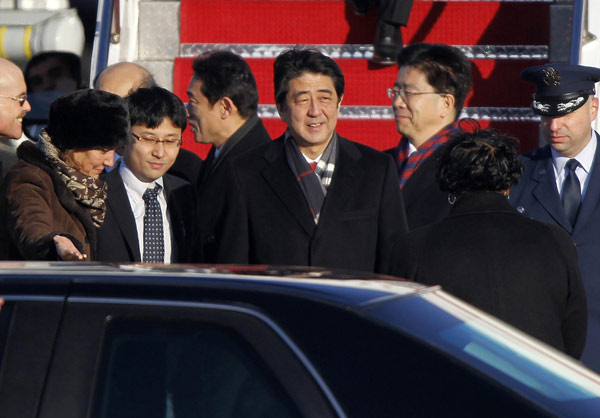 Japan's Prime Minister Shinzo Abe (C) is greeted by US Chief of Protocol Capricia Marshall (L) as he arrives at Andrews Air Force base near Washington, February 21, 2013. Abe is scheduled to meet with US President Barack Obama on Friday.[Photo/Agencies]
Abe arrived in Washington on Thursday afternoon and will leave early Saturday. During his stay, Abe is expected to hold a bilateral meeting with Obama at the White House at noon Friday, according to a schedule provided by the White House.
Following the meeting, Abe will have lunch with Obama. But the two will not hold a joint press conference, according to the schedule.
Later Friday afternoon, Abe will give a speech at the Center for Strategic and International Studies (CSIS), a Washington-based think tank.
The White House said last week that Obama will hold "in-depth" discussions with Abe on a range of "bilateral, regional and global issues, including the US-Japan Security Alliance, economic and trade issues, and deepening bilateral cooperation."
In a press briefing on Thursday, White House Deputy National Security Advisor Ben Rhodes said the upcoming meeting underscored the "importance of US-Japan alliance as the foundation of U.S. strategy in Asia."
"So this meeting is a further symbol of the president's commitment to the US-Japan alliance as a cornerstone of U.S. economic and security policy, and as a cornerstone of the U.S. Asia policy," he told reporters.