Syria protests Israel attack, warns of 'surprise'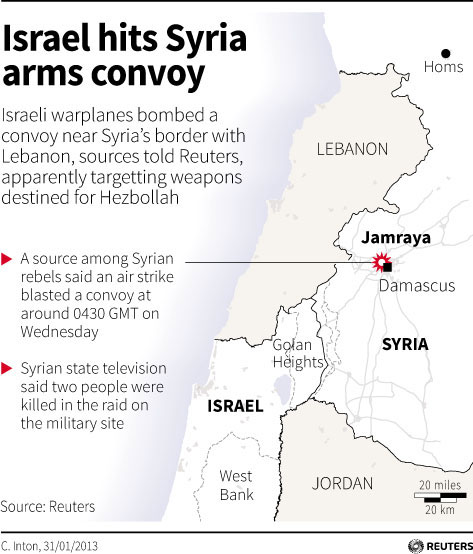 Map locating the Syrian town Jamraya which was hit by an Israeli air strike on Wednesday.[Photo/Agencies]
BEIRUT/AMMAN - Syria protested to the United Nations on Thursday over an Israeli air strike on its territory and warned of a possible "surprise" response.
The foreign ministry summoned the head of the UN force in the Israeli-occupied Golan Heights to deliver the protest a day after Israel hit what Syria said was a military research centre and diplomats said was a weapons convoy heading for Lebanon.
"Syria holds Israel and those who protect it in the Security Council fully responsible for the results of this aggression and affirms its right to defend itself, its land and sovereignty," Syrian television quoted it as saying.
The ministry said it considered Wednesday's Israeli attack to be a violation of a 1974 military disengagement agreement which followed their last major war, and demanded the UN Security Council condemn it unequivocally.
UN Secretary-General Ban Ki-moon expressed "grave concern". "The Secretary-General calls on all concerned to prevent tensions or their escalation," his office said, adding that international law and sovereignty should be respected.
Israel has maintained total silence over the attack, as it did in 2007 when it bombed a suspected Syrian nuclear site - an attack which passed without Syrian military retaliation.
In Beirut on Thursday Syria's ambassador said Damascus could take "a surprise decision to respond to the aggression of the Israeli warplanes". He gave no details but said Syria was "defending its sovereignty and its land".
Diplomats, Syrian rebels and security sources said Israeli jets bombed a convoy near the Lebanese border on Wednesday, apparently hitting weapons destined for Hezbollah. Syria denied the reports, saying the target was a military research centre northwest of Damascus and 8 miles (13 km) from the border.    
Hezbollah, which has supported Assad as he battles an armed uprising in which 60,000 people have been killed, said Israel was trying to thwart Arab military power and vowed to stand by its ally.
"Hezbollah expresses its full solidarity with Syria's leadership, army and people," said the group which fought an inconclusive 34-day war with Israel in 2006.
Russia, which has blocked Western efforts to put pressure on Syria at the United Nations, said any Israeli air strike would amount to unacceptable military interference.
"If this information is confirmed, we are dealing with unprovoked attacks on targets on the territory of a sovereign country, which blatantly violates the UN Charter and is unacceptable, no matter the motives," Russia's foreign ministry said.
Iranian deputy foreign minister Hossein Amir Abdullahian said the attack "demonstrates the shared goals of terrorists and the Zionist regime", Fars news agency reported. Syrian President Bashar al-Assad portrays the rebels fighting him as foreign-backed, Islamist terrorists, with the same agenda as Israel.
An aide to Supreme Leader Ayatollah Ali Khamenei said on Saturday Iran would consider any attack on Syria as an attack on itself.
In battle-torn Damascus, residents doubted Syria would fight back. One mother of five said she had heard retaliation would come later. "They always say that. They'll retaliate, but later, not now. Always later," she said, and laughed.
"The last thing we need now is Israeli fighter jets to add to our daily routine. As if we don't have enough noise and firing keeping us awake at night."  
BLASTS SHOOK DISTRICT    
Details of Wednesday's strike remain sketchy and, in parts, contradictory. Syria said Israeli warplanes, flying low to avoid detection by radar, crossed into its airspace from Lebanon and struck the Jamraya military research centre.
But the diplomats and rebels said the jets hit a weapons convoy heading from Syria to Lebanon and the rebels said they - not Israel - attacked Jamraya with mortars.
One former Western envoy to Damascus said the discrepancy between the accounts might be explained by Jamraya's proximity to the border and the fact that Israeli jets hit vehicles inside the complex as well as a building.
The force of the dawn attack shook the ground, waking nearby residents from their slumber with up to a dozen blasts, two sources in the area said.
"We were sleeping. Then we started hearing rockets hitting the complex and the ground started shaking and we ran into the basement," said a woman who lives adjacent to the Jamraya site.
The resident, who declined to be named because of the sensitivity over the strike, said she could not tell whether the explosions which woke her were the result of an aerial attack.
Another source who has a relative working inside Jamraya said a building inside the complex had been cordoned off and flames were seen rising from the area after the attack.
"It appears that there were about a dozen rockets that appeared to hit one building in the complex," the source, who also asked not to be identified, told Reuters. "The facility is closed today."
Israeli newspapers quoted foreign media on Thursday for reports on the attack. Journalists in Israel are required to submit articles on security and military issues to the censor, which has the power to block any publication of material it deems could compromise state security.
Syrian state television said two people were killed in the raid on Jamraya, which lies in the 25-km (15-mile) strip between Damascus and the Lebanese border. It described it as a scientific research centre "aimed at raising the level of resistance and self-defence".
Diplomatic sources from three countries told Reuters that chemical weapons were believed to be stored at Jamraya, and that it was possible that the convoy was near the large site when it came under attack. However, there was no suggestion that the vehicles themselves had been carrying chemical weapons.
"The target was a truck loaded with weapons, heading from Syria to Lebanon," said one Western diplomat, echoing others who said the convoy's load may have included anti-aircraft missiles or long-range rockets.
The raid followed warnings from Israel that it was ready to act to prevent the revolt against Assad leading to Syria's chemical weapons and modern rockets reaching either his Hezbollah allies or his Islamist enemies.
A regional security source said Israel's target was weaponry given by Assad's military to fellow Iranian ally Hezbollah.
Such a strike or strikes would fit Israel's policy of pre-emptive covert and overt action to curb Hezbollah and does not necessarily indicate a major escalation of the war in Syria.
It does, however, indicate how the erosion of the Assad family's  rule after 42 years is seen by Israel as posing a threat.
Israel this week echoed concerns in the United States about Syrian chemical weapons, but its officials say a more immediate worry is that the civil war could see weapons that are capable of denting its massive superiority in airpower and tanks reaching Hezbollah; the group fought Israel in 2006 and remains a more pressing threat than its Syrian and Iranian sponsors.