New realities 'rebuild' Beijing's lost city gates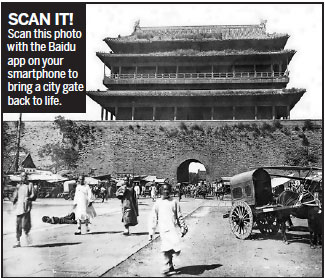 Zhengyangmen in 1895.William Henry Jackson For China Daily
Preservation
Li's project isn't the first attempt to "revive" the city gates. Many Beijingers had already tried to bring them back to life in a variety of ways.
For example, a young photographer made a series of pictures of the gates looming between real buildings and with the busy Second Ring Road below.
He superimposed an old photo of the gates on a picture of the location as it appears today.
Moreover, a retired teacher painted pictures of many razed buildings, including the gates, based on his childhood memories. The paintings have been displayed in museums.
"I have realized that all citizens share a duty to protect the city's cultural heritage," Li said.
His daughter has benefited too. She now knows the different functions of all nine gates, and described the virtual model in her palm as "magic".