New realities 'rebuild' Beijing's lost city gates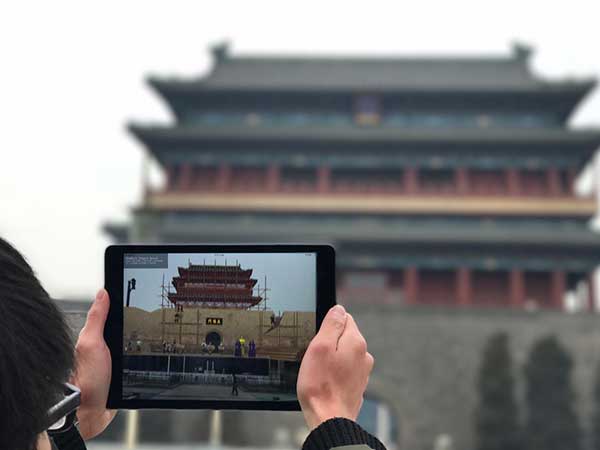 In the 1960s, the city planners left just "one and a half" city gates. The "one gate" is Zhengyangmen, on Beiijng's north-south axis at the south end of Tiananmen Square. Built in 1419, it is also known as Qianmen, or "Front Gate".[Photo provided to China Daily]
Some of the capital's long-gone landmarks are being recreated in the virtual world. Yuan Quan reports for Xinhua China Features.
Advanced technologies are bringing China's past to life - and it all started with a little girl's question for her father.
People in Beijing can now see how the city's long-demolished gates appeared almost 70 years ago by using their smartphones to overlay historical scenes on photos of the actual sites in the modern metropolis.
The technology used is augmented reality, which enables people to scan an object with their smartphone to produce a three-dimensional animation of the structure that appears to overlay the actual site.
These virtual history lessons were the brainchild of Li Yingchao, 34, an augmented reality engineer with search engine Baidu, but the inspiration came from Miduo, his 4-year-old daughter.
One day, Li and Miduo were traveling on Beijing's Subway Line Two, which follows the route of the old city wall, when the girl asked, "Why do so many stops have the word men (gate) in their names?"
The question puzzled Li. He knew that eight subway stations were named after various dismantled gates, but he had no idea why.