New realities 'rebuild' Beijing's lost city gates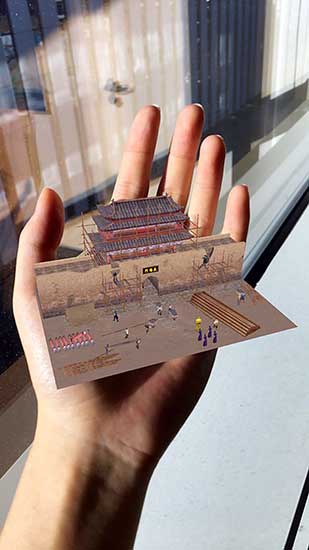 [Photo provided to China Daily]
A shared duty
When the initiative was shared online, it became a public project. "I was born in Beijing in the 1940s, and I saw the city gates - great world heritage treasures," read a post on WeChat. "They were a great loss. When my child told me about their 'revival', I wanted to see it."
However, some people criticized the project because it provided inaccurate information.
The tech engineers received emails and comments saying there were many mistakes: some city walls were painted with angles, when they had actually been arched; the nine gates had encircled the inner city, but the engineers had lined them up; and they had ignored the details on each gate.
In response, Li and his colleagues pointed out that the paintings were works of art, so they could not be 100-percent accurate. The explanation cut no ice with some observers, though, with one commenting: "Mistakes will mislead the public. You cannot play with history."
Li and his colleagues realized how serious the issue was. "We had a bigger responsibility," he said.
The team invited scholars to give talks, and spent days in libraries to study the city's history. They also continued to test their design and decided to use black-and-white photos of the designated spots. "Photos are real, even though they are not much brighter than the paintings," Li said.