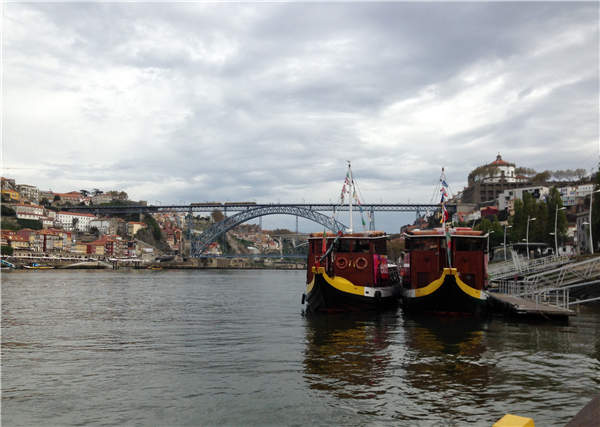 [Photo by Erik Nilsson/China Daily]
It's particularly renowned for its bountiful bookstores, including Lello & Irmao, which was frequented by J.K. Rowling when she taught English in the city. It's believed its staircase inspired Hogwarts'. Her characters' capes also resemble Portuguese students'.
Lonely Planet ranked the neo-Gothic establishment as the "third most beautiful library in the world".
But while the cityscape conjures a magical allure, a major ingredient in the love spell it casts is concealed underground.
Porto hides a hive of wine cellars that offer tours and tastings.
Sandman ranks among the biggest port brands, and its subterranean tunnels draw visitors to stroll among stacks of casks before aboveground samplings.
The traditional cellar is nearly next door to, but conceptually a million miles from, the Porto Cruz Multimedia Center.
The contemporary center is a techie-arty celebration of the brand's port that employs touchscreens, film and art displays to celebrate its wines.
It also produces jams, creams and teas that use port as ingredients.
Indeed, port wine has so shaped the area's physical composition and saturated its culture that it's not solely imbibed-but even eaten.
It flavors every dimension of local life.
Contact the writer at erik_nilsson@chinadaily.com.cn