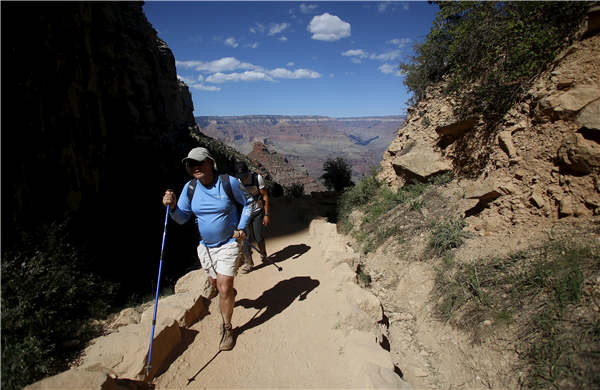 National parks, including the Grand Canyon and Yellowstone, are among the main destinations for visitors to the United States. Photos provided to China Daily
The United States hopes Chinese visitors discover its national parks' natural allure, especially following visa relaxations. Yang Feiyue and Erik Nilsson report.
Grizzlies and geysers. Moose and mountains. Coyotes and caverns.
The United States hopes to show Chinese visitors its wild side.
Beyond its urban jungles are some of the most inconceivable natural places the planet has sired, enshrined as national parks.
The number of visitors to these conservancies last year rivaled that of the country's population.
Tourism authorities expect the 10-year multi-entry visa policy introduced in late 2014 will coax more inbound Chinese beyond gateway cities to pristine parks, where wildlife wanders across geological marvels.
That's especially since 2016 marks the US-China Tourism Year announced two weeks ago and the parks system's centennial. Consequently, Brand USA, the body created to promote inbound tourism, will soon introduce its Great Outdoors program.
"It'll enable Chinese to experience national and state parks, so they can see the country's wild side in addition to its metropolises," says Brand USA Shanghai's public relations and cooperation director Anita Jia.
Brand USA plans to screen a documentary featuring 30 US parks in IMAX 3-D and 2-D in Chinese theaters in April or May.
Gateway metropolises, such as Log Angeles, San Francisco and New York are the most popular destinations for Chinese, especially first-time visitors.
"The 10-year visa can help Chinese tourists better explore the US' vast territory," says Huang Shiming, who holds the decadelong visa.