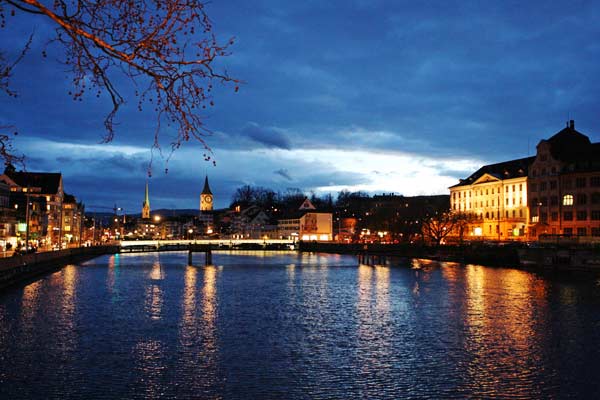 The river Limmat starts at the outfall of Lake Zurich, in the center of the city. Zurich, the biggest city in Switzerland, is even more beautiful at night. [Photo provided to China Daily]
Tireless efforts for excellence don't come cheap, but the expense for tourists is certainly worth it, writes Sindy Chan.
When we planned a holiday to Zurich, I ruled out a budget flight as my less favorable option for traveling continental Europe. Instead, we take the London-Paris Eurostar then connect to TGV-Lyria for Paris to Zurich. Both trains are a first-time experience for us. Eurostar makes traveling with luggage much easier. After two minutes on line, I get my passport stamped to leave England for France. After a smooth and comfortable two-hour train ride, we arrive at Paris Gare du Nord.
We make a two-stop metro connection from Paris Gare du Nord to Paris Gare de Lyon. From there, we hop on[Photo provided to China Daily] our TGV-Lyria first-class carriage to our destination, Zurich. A neat and tasty meal is served on board for first-class passengers. We arrive at Zurich after dark the city is even more beautiful at night.
Zurich is legendary yet subtle. Not every train passenger realizes they are readily greeted by a statue of Alfred Escher (1819-1882) in front of the central station. Escher, a son of Zurich, who founded Credit Suisse (Schweizerische Kreditanstalt) in 1856, is also Switzerland's father of railways.
The lordly Paradeplatz is bejewelled with a symphony of lights. From the balcony of my room at the Savoy Hotel Baur en Ville, I enjoy the magnificent view of illuminated Credit Suisse on the right and UBS headquarters across from us. Intersecting city trams going around Paradeplatz amazingly create streams of light, followed by a fade-in/fade-out montage a 17th-century marketplace filled with livestock and horse-driven carriage versus a global financial center packed by sedans and limousines since the 19th century.
Paradeplatz is one of the most expensive pieces of real estate in Switzerland, made iconic for two banks and one hotel.
Manfred and Christina Horger have managed the "one hotel", Savoy Hotel Baur en Ville, for 30 years. The Horgers tell me Zurich is most photogenic during the Spring Festival (Sechselauten), which falls in the third weekend of April each year. The procession of the guilds is the highlight of the festival.