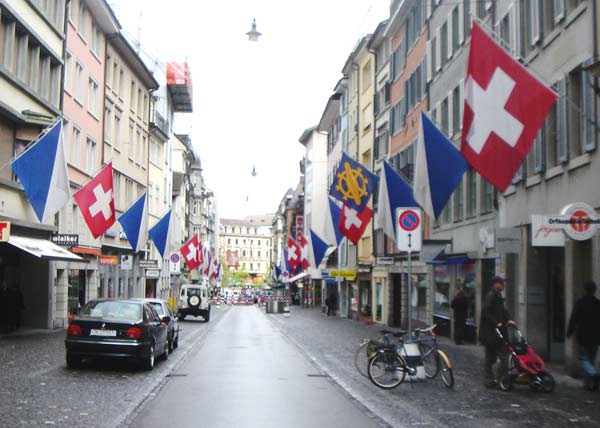 The local Spring Festival falls on the third weekend of April each year. The streets are decorated with colorful flags and the procession of the guilds is the highlight of the festival. [Photo by Zhai Jun / for China Daily]
The Turler Clock might already be well known in China as the shop is popular with Chinese tourists who are big fans of the Swiss watch.
Freitag make bags out of used materials. The young and trendy Zurich brand is popular in Europe and getting more attention in the United States and Asia in recent years. The Freitag flagship store on Geroldstrasse, completely built from 19 rusty, recycled freight containers, represents the ecological and industrial character of modern Zurich.
We did not go to Geroldstrasse but went to Freitag's smallest store on Limmerstrasse where the factory and office are located. There we met co-founder Marcus Freitag, one of the Freitag brothers.
It is always wonderful listening to a success story told by the entrepreneur himself. Back in 1993, young graphic design students Marcus and Daniel Freitag, inspired by a view from their livingroom onto the transit-bridge in Zurich, came up with the idea of making tarp-bags.
The very first Freitag messenger bag by the two brothers was made from used tarp collected from a truck company. Marcus said they received "not bad" comments for the first bag and started getting "orders" from friends and schoolmates. The Freitag story continued and the rest, as they say, is history.
The Freitag brothers effectively transferred the concept of a shared mission for a sustainable future. The result is people carrying their cool, trendy bags all over Zurich, Switzerland and beyond.
And Marcus Freitag is not just young and successful. I ask to what extent their parents' values are reflected in the two brothers' business success.
"Our parents taught us to listen to our inner selves, choose to do things we like, be good to the environment and not to waste resources," Marcus Freitag says.
"They feel very proud of us. They use Freitag bags every day, and only Freitag bags."
Even small shops in Zurich can be fun. A gentleman in our hotel's Davidoff cigar shop explains to us different cigars for men and women a man's cigar is normally bigger and meant to last 45 minutes. A woman's cigar should last about 30 minutes. A good-quality cigar costs 20 francs, whereas a quality cigar lighter easily costs 1,000 francs. Only distilled water should be used for the cigar humidor.
"If you don't finish the cigar to the end, let it burn out. An extinguished cigar gives out a bad smell," the gentleman in the store says. Eager learners would enjoy Zurich as much as I did.
To complete my Zurich experience with very local signature dishes, I order Emince de filet de veau zurichoise avec Rosti, or sliced fillet of veal Zurich style, in the Savoy Hotel Baur en Ville's Orsini Restaurant famous for Italian fine dining.
The night before leaving Zurich, we have dinner at the Baur Restaurant on the first floor, with a view to Paradeplatz and the same enchanting symphony of lights.