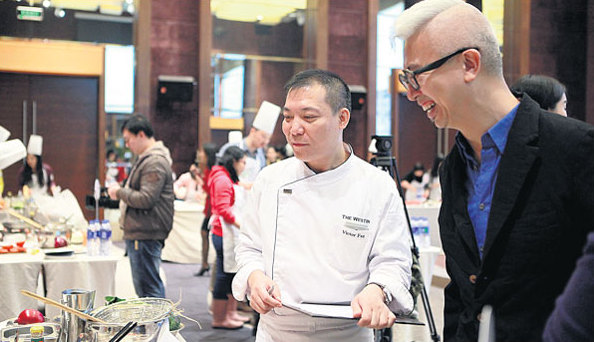 The Westin promotes healthy diet and offers SuperFoodsRx. Provided to China Daily
Work hard, play hard used to be the mantra of city professionals. Now, sister hotels the Westin Guangzhou and the Westin Pazhou in Guangzhou want you to remember six new elements of well-being - feel well, sleep well, eat well, move well, work well and play well.
To promote this innovative campaign, the hotels recently invited nearly 30 journalists to share ideas at an Eat Well Event that is part of their For A Better You campaign. HongKong food critic and culinary lifestyle writer Au Yeung Ying-Chai was guest of honor.
Westin Hotels and Resorts launched the campaign in 2013 in China to make guests leave feeling better than when they arrived, helped by the various amenities and features of the hotel experience.
At the Westin Guangzhou, journalists were divided into seven groups in four-member teams to compete with each other. Each group had to prepare two Super Food dishes under the guidance of the Westin's chefs, with Au Yeung and the chefs as judges.
American nutrition expert Steven Pratt stated in his bestseller SuperFoodsRx - Fourteen Foods That Will Change Your Life that some foods are better than others for health and longevity. These include foods such as broccoli, blueberries and walnuts, which he referred to as SuperFoodsRx.
The Westin is the first international hotel brand in China to promote the healthy diet definition among guests and offers SuperFoodsRx on all menus, including breakfast and room service.
In Guangzhou, the journalists first headed to a local market and bought food with a budget of 150 yuan ($25).
"Themarket is a rare place where all kinds of people would gather, and there are all colors and aromas. The milk of human kindness is embedded in the bargains," Au Yeung says.
According to him, super foods are all ordinary fare, and the key is to combine them into workable dishes. It is also significant that an international hotel brand like the Westin is promoting wellness in eating, and is a reflection on the lifestyle demands of the era.
Participants were given tips on how to choose nutritious foods and shown how to cook them.
Zheng Guoliang, general manager of the Westin Guangzhou, says Westin hotels focus on the well-being of guests not just in offering super foods, but also in helping them move well and sleep well.
"As for me, I care more about the service standards in a hotel, especially in offering a healthy diet and fitness facilities. Those on business trips need such services most," Au Yeung says.
"It's easy to keep healthy habits if we are always reminded of how to live healthily. If there are more and more such hotel operators, we will be a lot healthier as a whole."