Catering to fair visitors in Guangzhou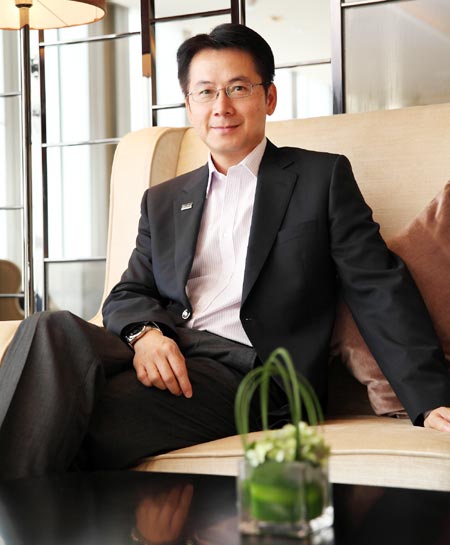 William Chea is the general manager of Westin Pazhou. Provided to China Daily
Profile - William Chea
The Westin Pazhou has the advantage of being right by the largest exhibition venue in Asia - the Canton Fair Complex in Pazhou, Guangzhou.
"Based on the strong exhibition and convention function of Pazhou, this area will develop into another CBD of Guangzhou in the next five to 10 years," says William Chea, general manager of the hotel.
"With more and more companies moving into this area, we expect an increasing demand for upscale accommodation and high-end catering in the long run. This is a great opportunity for us."
Westin Pazhou generates most of its room revenue from exhibition guests, and it enjoys full occupancy during major exhibitions, such as the Canton Fair, the furniture show and the auto show, Chea says.
Because of its strategic location, about 70 percent of guests at the 2-year-old hotel come for exhibitions. There are about 75 fairs held at the complex throughout the year.
As the only designated hotel for the Canton Fair, the hotel provides exclusive services, such as direct access to the exhibition center and buggy services to transfer guests within the exhibition center.
"With the support from the government, Guangzhou is becoming an international exhibition center. We expect to witness an increase of exhibitions and fairs, which will bring more guests and business to our hotel.
"Guests from different fairs have different requests and budgets on accommodation and dining options, depending on the industry and the purpose of the fair. We will set diversified strategies to target different guests and explore more potential segments."
Chea views the new regulation of allowing foreign transit passengers 72-hour visa-free stays as "definitely good news" for the Guangzhou hotel industry, saying it will attract more visitors.
"So far, we haven't seen a dramatic increase from this segment, but we are very positive. In our industry, a guest-oriented mindset is always the key to success."
Chea says his hotel encourages guests to share their experience through various channels, such as questionnaires, online ratings and reviews and comment cards.
Even in a climate of tightening budgets, Chea says his hotel achieved its financial goals after overcoming many hurdles.
"Many MICE (meetings, incentives, conventions and exhibitions) groups and luxury banquets from government departments were cancelled or downsized in the first half of 2013. It was a hard time for high-end catering.
"Considering that this may last for some time, we adjusted our strategy to other more promising segments, such as corporate accounts and individual travelers."
To target these segments, more effectively, the hotel will use the power of its brand, Chea says.
"We will keep expanding our brand influence by communicating our values with guests and keep our competitive force in the market."