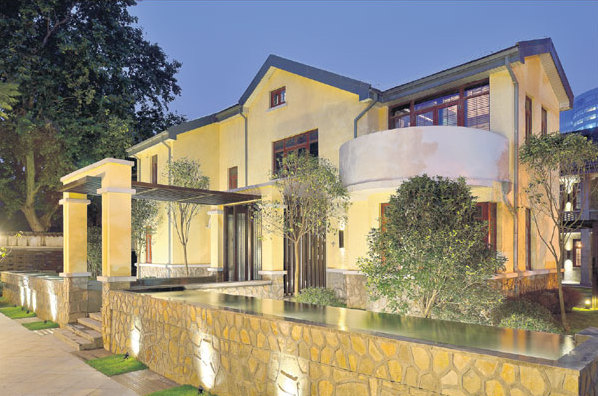 Yihe Mansions, Nanjing has 26 buildings. Each has been revamped with a distinct look and has a story to tell. Photos Provided to China Daily
Staying in a hotel can be a rich cultural experience, especially in a historical city like Nanjing. Ma Xue visits a classical mansion where past and present come together in a delightful confluence.
'Pick any one of our suites and flip it upside down, and you'd find exactly 348 amenities and a story behind each one," says ZhuWenbo, general manger of Yihe Mansions, Nanjing.
This is something no general mangerwould say lightly, but there is such a treasure trove of artifacts in Nanjing that Zhu can speak with confidence.
Nanjing, which means "southern capital", was once the heart of the political administration of China, during the period of the Republic of China before 1949, colloquially known as "Min Guo".
Although it was a short period, Nanjing developed an unmistakable identity during that time with a lot of space for new ideas and cultural creativity. That was a time when culture flourished in Nanjing in ways not seen since.
For those who want to know more about this period and take a trip down memory lane, YiheMansions is a real find.
It is located on Yihe Road in the legation quarters that was, and still is, one of Nanjing's most gracious neighborhoods.
Within the mansions thickly shaded by Nanjing's signature plane trees, the Min Guo-style buildings show the influence of American architect Henry K.Murphy, the principal advisor on the urban planning of Nanjing under Sun Yat-sen and Chiang Kai-shek, leaders of the Kuomintang during that period.
These century-old mansions were revamped with a distinct look that has minimal similarity with the high style of that period, that which is more commonly seen in Shanghai architecture.
In the most discreet way possible, each of the 26 buildings tells a story.