Lighting up Nanjing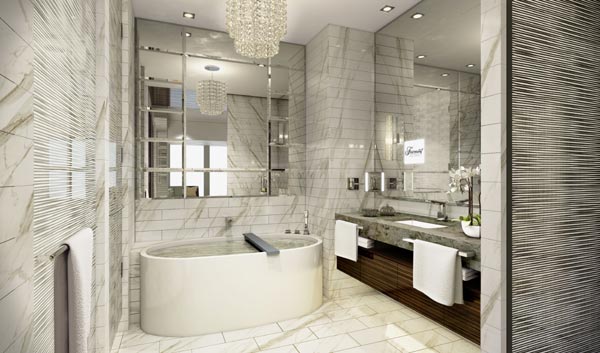 Decked out in subtle but elegant tones of dark brown and gold, the Fairmont Nanjing intends to fuse modern elements with the traditional icons that echo the ancient capital's long history. Photos Provided to China Daily
Fairmont joins a collection of new landmarks in the old capital. Han Bingbin gets a first look at the attractions that are to come.
Nanjing's Jin'ao Tower, East China's latest landmark and architectural wonder towers more than 200 meters high and resembles an immense Chinese lantern. Right on top, the Fairmont is opening its fourth property on the Chinese mainland.
Decked out in subtle but elegant tones of dark brown and gold, the Fairmont Nanjing intends to fuse modern elements with the traditional icons that echo the ancient capital's long history. It also pays tribute to the city's plum tree, with a cascade of leaves falling down the feature wall in the atrium. Underneath the historical themes, there is the beat of the metropolis' modern rhythm.
The hotel is just a few blocks from the Nanjing International Expo Center and Nanjing Olympic Sports Center, and Fairmont Nanjing is the first international hotel brand to seize a central position in the city's Hexi New Town.
The prestigious district, which is quickly shaping itself into a modern and vibrant business center and classy neighborhood, is the strategic future of the ancient capital. It is also where most major events of the 2014 Youth Olympic Games will take place.
In its first major effort to go local, Fairmont Nanjing will join a few local hotels to accommodate some of the games' important guests.
"The city of Nanjing is one of the fastest growing travel destinations in China and we are delighted to open Fairmont Nanjing at such an opportune time," says Martin Leclerc, general manager of Fairmont Nanjing.
"The hotel will be part of a new luxury residential and commercial development area, and leveraging on Fairmont's distinct brand of service excellence and commitment to delivering authentic experiences, we will play a role in helping to put this area on the map for discerning luxury travelers."