Lighting up Nanjing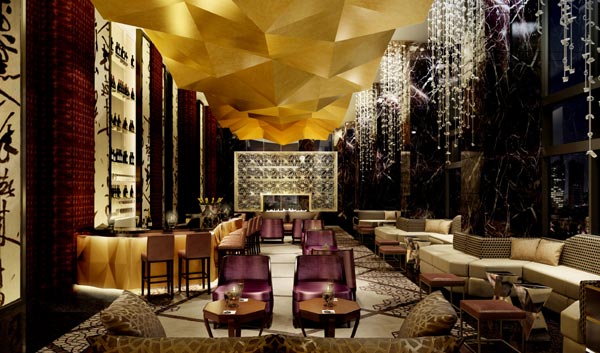 Decked out in subtle but elegant tones of dark brown and gold, the Fairmont Nanjing intends to fuse modern elements with the traditional icons that echo the ancient capital's long history. Photos Provided to China Daily
Fairmont features 359 well-appointed guestrooms and suites. Each guestroom showcases rare views of either the Yangtze River or the city. Comfort is guaranteed by attention to detail, such as Fairmont's signature bedding from Simmons, what they call a "magic bathroom mirror" embedded with a flat panel television, a rain shower stall and New York perfumer Le Labo bathroom amenities, scented with the exclusive Rose 31 scent.
These room experiences, of course, will be enhanced by gourmet dining experiences.
In addition to Fairmont's flagship restaurant Richesse Chinoise, which experiments with a fusion of Huaiyang and Cantonese cuisine, Fairmont Nanjing brings in authentic Canadian joys.
At the Vancouver Grill, Joshua Rogers, former head chef at Fairmont Peace Hotel in Shanghai, prepares in his own Canadian steaks and seafood. His offerings are well supplemented by the creations of award-winning pastry chef D'Oyen Christie, whose family has been serving Fairmont for more than 50 years.
After a satisfying dinner, guests can enjoy drinks at Music@61, starting with a whisky from a collection of 60 different labels, and then move to the bar for cocktails.
The hotel will soon be opening Cloud@62, the first rooftop bar in Nanjing, and decked out with tented cabanas and a man-made beach where guests can enjoy a signature cocktail that Fairmont specially designed for Nanjing - the Splash Sunset.
Just as they are committed to good taste in food and drinks, Fairmont hotels also hold a strong belief in going organic.
To provide ingredients for the hotel's restaurants, Fairmont Yangcheng Lake has a 200-acre private farm beside the lake. The resort also has a bee farm that provides as much as 40 kilograms of honey during spring for Fairmont's chefs, pastry and dessert chefs especially.