Enigmatic ice world's unexpected warm embrace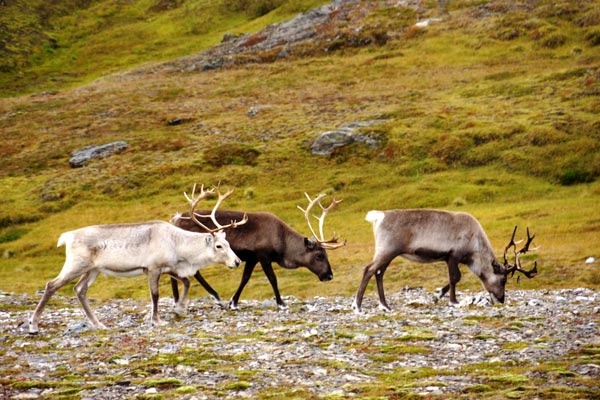 North Cape Plateau reindeer. Their antlers look delicate yet powerful. [Photo by Sindy Chan / For China Daily]
Our guide describes an idyllic picture. In spring, Sami people bring their herds of reindeer by boat to the North Cape Plateau. The Sami spend the summer in a small camp called a "lavvo" while reindeer graze and breed on the island. By autumn, reindeer become strong enough and swim back to the mainland from the narrowest crossing.
About halfway up to the North Cape Plateau, one older Sami waits with his sacred white reindeer.
Sami people are semi-nomadic reindeer herders indigenous to the Arctic area of northern Norway, Sweden, Finland, the Kola Peninsula of Russia and the border area between south and middle Sweden and Norway. According to Nordic texts, there were two types of Sami - sea Sami lived on fishing and mountain Sami lived on trapping, hunting and herding.
Samis are fish and reindeer eaters. Their non-wheat diet, plus living in communities detached from the Norwegians, helped them survive the Bubonic plague.
At a closer look, a reindeer's antlers look delicate yet powerful. The white reindeer, believed to be sacred to Sami people, stays calm and obedient to its herder. No wonder the Chinese name for reindeer is "tamed deer".
The Sami speak a language of the Uralic language family, and are the only indigenous people of Scandinavia recognized and protected under the international conventions of indigenous peoples. Sami ancestral lands span an area of about 388,350 sq km, which is about the size of Sweden.
Having gone through a bitter history, Sami people now live a peaceful life. In certain regions of the Nordic countries, reindeer herding is legally reserved only for the Sami.
Related: History of Bergen