Enigmatic ice world's unexpected warm embrace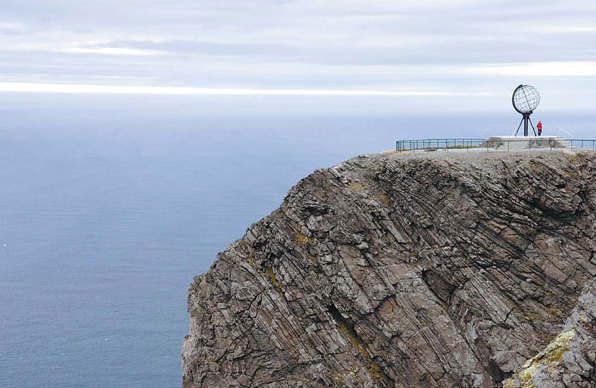 The excursion to the North Cape is very popular for the opportunity to set foot on the northernmost point of the European continent. Pictured is the North Cape globe icon. [Photo by Sindy Chan / For China Daily]
A voyage to the Arctic takes passengers onboard a Hurtigruten ship on a 2,400-km voyage along the Norwegian coast on a sea passage started 120 years ago, writes Sindy Chan.
We are at London Gatwick Airport again. Flying is not my favorite option but I've found a solution this time. Staying at the Yotel, a small hotel of 46 rooms resembling first-class airline cabins inside Gatwick Airport South Terminal, is a relief for pre-departure anxiety. From London, we fly to Bergen for a Norwegian cruise to the Arctic. The last sight of Bryggen in Bergen is immediately recognizable as a row of wooden houses in maroon, beige, yellow and white colors standing tenaciously alongside Bergen Harbor. Surviving the vicissitudes of burning down and rebuilding, the old quayside architecture cluster is now a UNESCO Heritage-listed site - a time machine taking us back over a period of 500 years.
Bergen today is a plank to cruise passengers sailing the Norwegian coast - as we sail with the Hurtigruten.
The Hurtigruten's ship MS Nordnorge (Northern Norway), takes us on a voyage of 2,400 kilometers along the Norwegian coast, through perilous reefs, small islands and narrow inlets, from Bergen to Kirkenes in the Arctic - a sea passage started 120 years ago.
"Hurtigruten ships have always been working ships," tour leader Harald Weinreich reiterates in the first passenger meeting aboard.
Related: History of Bergen