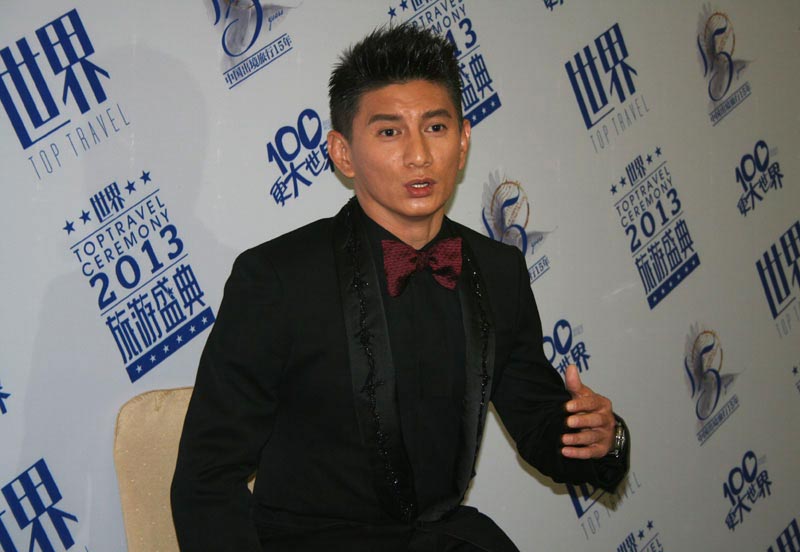 Taiwan singer and actor Nicky Wu speaks to reporters before the ceremony that displays the major achievements China has made since it first opened its outbound travel market 15 years ago on Wednesday evening, November 27, 2013 in downtown Beijing. [Photo/Crienglish.com]
A ceremony displaying the major achievements China has made since it opened its outbound travel market fifteen years ago was held on Wednesday evening in downtown Beijing.
Last year, the country became the world's largest outbound tourism market, surpassing Germany and America. In 2012, over 83-million Chinese nationals traveled abroad, up 18.41 percent from the amount in 2011, and the total outbound tourism market reached 102 billion US dollars.
The ceremony, which featured the participation of selected artist-travelers, aimed to raise public awareness with Taiwan singer and actor Nicky Wu launching a charity activity that promises to send a number of children from poverty-stricken families to an international "travel for study" program.
Nicky Wu explained that being the spokesperson for the "100 bigger worlds" charity was deeply meaningful to him and he felt honoured to be able to guide these children from Hope Primary School on their first-ever study trip to Malaysia.
Top Travel magazine was responsible for the design of both the ceremony and charity event.
Top Travel, a monthly magazine focusing on international tourist destinations, serves as a guide and touchstone, offering fresh ideas and its stamp of approval on an array of desirable destinations.
Launched in July 2007, the magazine began using famous and influential figures on its magazine covers a year later.
China's increased outbound tourism consumption in recent years has not only contributed to the development of the country's outbound travel market, but has helped drive economic growth, and encouraged job creation. At the same time, the attainability of foreign visas for Chinese citizens has widely improved, and the Chinese language has gained greater exposure internationally.