Interests collide in battle for future of tourism island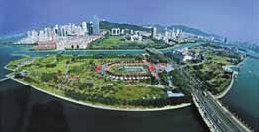 The coastal city is known as a 'garden on the sea' among tourists at home and abroad. Provided to China Daily
Gulangyu, the largest satellite island of Xiamen, will embrace a new start by transforming from an over-commercialized tourism spot into a cultural community.
Known for its warm and humid weather, Gulangyu has become an ideal place to enjoy a relaxed lifestyle. Millions of tourists are attracted to its beautiful beaches, quiet alleyways and colonial mansions.
Home to China's largest piano museum and many prestigious pianists, the island also has a reputation for classical music.
The island placed second in a CNN list of favorite Chinese travel destinations for foreign tourists, outranked only by the Forbidden City in Beijing.
While tourism has brought much fame and economic benefit to the city, local residents and scholars have raised concerns that the area is becoming over-commercialized, complaining that the island is plagued by loose regulation and pollution from the large numbers of tourists.
"Gulangyu is very difficult to manage because it is a residential community, a popular tourism destination as well as a cultural heritage protection area," said Cao Fang, director of the administrative commission of Gulangyu.
"Those different identities sometime lead to conflicts. For example, local residents want more regulations, but tourists want more freedom to sightsee. Scholars want to protect local heritage, while businessmen want to develop more scenic spots."
Cao said the commission is working on a better long-term management mechanism to protect Gulangyu Island.
The commission is tightening regulations on tourism service providers, such as placing limits on the number of hotels and souvenir shops.
People's pressing concerns about unlicensed business activity, roadside stalls and illegal construction will all be solved, Cao said.
Zhou Zhonggen, an official at the Gulangyu scenic spot, said a voluntary association will be established, and everyone in the community can join to work toward protecting the island.