Dancing to the Drumbeat
It originated from nature worship and the ancestral worship of the primitive people. The Yi people regards the bronze drums as the soul of everything and the bronze drum dance is the way to send people's wishes to the gods and ancestors; while the Zhuang people consider the bronze drum auspicious with the ability to dispel evil and monsters and pray for peace.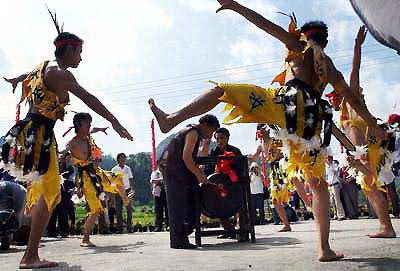 The bronze drum dance of the Sui ethnic group.
The bronze drum is not covered with skin but made entirely of hollowed bronze. It is a long-standing percussion instrument and a handicraft. There are seven kinds of bronze drums, all made of bronze, with a pattern of sun-rays slightly protuberating in the center. Its beginning may be traced to be bronze cauldron, a cooking utensil in ancient times.
It was used in its time as a sacrificial vessel at offerings and rituals or as a percussion instrument to give the signals to summon the people of the tribe. In battles it was struck to direct the fighting. For this reason, it was possessed by the clan headman or tribal chief as a symbol of ruling power. With the decline of chieftain dominance, the bronze drum usually fell into the hands of powerful or rich families.