Dancing to the Drumbeat
For the Danu Festival, a traditional festival of the Yao people which falls on the 29th day of the 5th month by the lunar calendar, many people dressed in their holiday best to call on friends and relatives and exchange greetings with them; while many others flock to where a varied entertainment program is to be given. At these events, you can see people doing "cross-singing", dancing, playing the suona (Chinese clarinet) and performing wushu (traditional Chinese martial arts). The program is highlighted by the bronze drum dance, which is both entertainment and a sort of competition. The bronze drum dance is an important activity on the Danu Festival.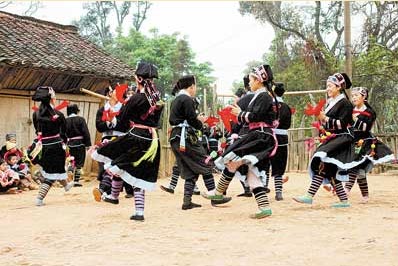 The bronze drum dance of the Yao ethnic group.
Besides the Yao ethnic group, the bronze drum dance is also popular among the Zhuang, Yi, and Miao ethnic groups. The time-honored bronze drum dance is the most widespread and most influential ancient dance, energetic and strong in rhythm.
The bronze drum dance is a collective dance where the dancers line up in a circle and dance counter-clockwise to rhythmical drumbeats. The traditional dance includes 12 sets of dance movements.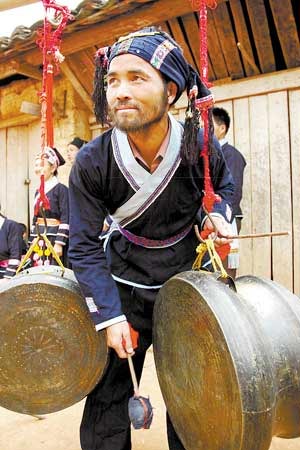 The bronze drum dance of the Yao ethnic group.
While dancing, two males beat a couple of bronze drums; another two males shake rain caps around the two males mentioned above; another two males and two females dance lightly according to the music. The bronze drum dance, with religious significance, means yearning for ancestors and praying for a healthy harvest.