How Internet links the global village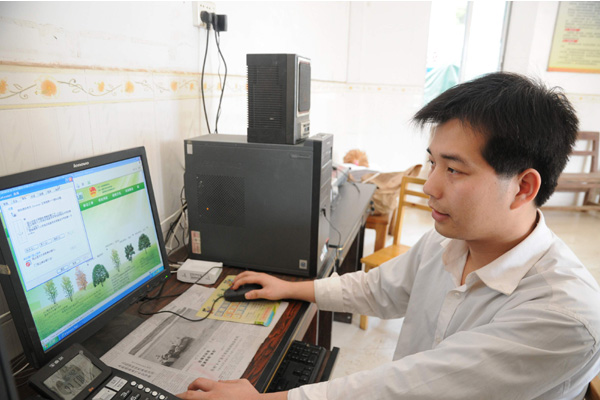 Guo Weijing is a cunguan in Ke'an village, the Guangxi Zhuang autonomous region, and has been connecting villagers to the Internet. Xu Lin / China Daily
Guo Weijing is possibly China's lowest ranking official.
But he has made a big difference in the way he has connected rural communities online.
The 27-year-old, who studied Japanese at Guangxi City College in 2008, has become the cadre of Ke'an village, on the fringe of Nanning, capital of the Guangxi Zhuang autonomous region.
The job earns Guo about 2,000 yuan ($317) per month.
His focus has been connecting villagers to the Internet, he says.
"I want to try my best to solve problems in rural areas," Guo says.
"Many university graduates are working jobs that have nothing to do with their majors."
Guo is among a growing number of graduates around the country who've responded to the government's call to serve village cadres since 2006. There are about 200,000 college-educated village cadres - called "cunguan" - in China. The number is expected to grow to 600,000 in 2020.
Guo attended the recruitment exam only to accompany his classmate. But Guo passed, while his friend didn't.
There are more than 1,000 households with nearly 5,800 people in Ke'an, about 2,000 of whom are migrant workers in big cities.
About 200 households have the Internet.
Guo has established websites and newspapers for the village, in addition to a micro blog for the Party branch of college-educated cunguan.
"It's easy to meet online because micro blogs are popular with young people, and we can communicate at any time," he says.
The cadres discuss problems and share experiences and information online.
It enables various villages to interact, too. For example, a village that produces fruit can partner with one that makes baskets.
"Because I was a student without work experience or money, I had nothing to offer but my computer skills," says Guo, who used to operate a website in college.
In October 2008, he spent three days building Ke'an village's website, which has accumulated 130,000 hits. He had to hire a tricycle to a nearby village's Internet cafe, because Ke'an had no Internet access then. The county government later provided the village office a computer and Internet access.
"It cost just 82 yuan to register the site," he says.
"I paid it out of my own pocket."
The website publicizes local news and village affairs, in part to enable the migrant workers who've left to keep in touch with new developments, promote Ke'an to the outside and strengthen cohesion among the villagers.
The Internet promotion has led volunteers from the county, most of whom are in their 20s and 30s, to help with such tasks as harvesting wheat.
In December, Guo set up an online supermarket, so cunguan can help farmers promote and sell their products online.
"It's easy to sell online, because news spreads so fast," Guo says.
"We've received many calls, including some from other provinces."
In April 2009, Guo built an online memorial platform, which he claims is the first of its kind at the village level in the country. It received nearly 600 messages before the end of the year.
Netizens can offer virtual sacrifices, leave messages and even grow virtual trees for their late loved ones.
This April, the government officially promoted the platform for county-wide use.
"This enables people who can't visit their relatives' graves during Tomb Sweeping Festival to offer sacrifices," Guo says.
In August, he established a blind dating website for the village. More than 200 young residents posted profiles, and two couples who met on the site got married.
"It's hard for rural youth, many of whom migrate to work in big cities, to find a spouse," Guo says.
"It is even harder for men, because many women are unwilling to marry guys from the countryside with little money. I hope society can become more aware about young rural singles."
The village newspaper Guo founded in 2009 has published nine issues. The 3,000 copies are distributed to the villagers for free. It also has an online edition. Production costs range from 600 ($95) to 999 yuan, which Guo paid out of his own pocket until the county government recently started picking up some of the tab.
"I don't want to burden the villagers," he says.
Villagers enjoy the paper because its coverage is close to their lives. It includes local happenings, farming tips and poems written by locals.
"People initially were skeptical of my novel ideas, so I had to do it all on my own," Guo says.
"But they eventually understood, and now several volunteers help maintain the websites."
But these weren't the only challenges Guo faced.
"I was lonely and bored when I first arrived as I had no Web access or TV," he recalls. "But the biggest barrier was language. That's a common problem for cunguan."
He spent his first few months visiting residents with the village head. He was able to understand the local dialect after three months and could speak it another three months later.
Guo decided to stay in the village when his term was over in 2011. "I feel attached to the village and would hate to leave it," he says.
"The village has become famous for its Internet use, but it will take time for the villagers to profit from it."
Contact the writers through xulin@chinadaily.com.cn.