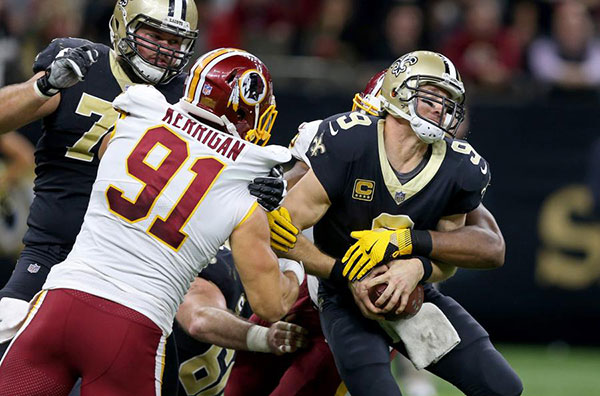 New Orleans Saints quarterback Drew Brees is sacked by the Washington Redskins in the second half of Sunday's game in New Orleans. Brees completed 11 consecutive passes, including two touchdown strikes, in the final six minutes of regulation to tie the score before the Saints won 34-31 in overtime. Chuck Cook / Usa Today Sports
Saints QB helms miracle comeback for overtime win
NEW ORLEANS - Drew Brees was intercepted, knocked around and held without a touchdown pass for most of what nearly went down as one of his more forgettable performances in a Saints uniform on Sunday.
Then came a late stint of virtual perfection as the 38-year-old quarterback orchestrated a miracle comeback against the Washington Redskins.
Brees completed 11 consecutive passes during New Orleans' final two drives of regulation for 164 yards and two TDs, then Mark Ingram capped a 131-yard rushing performance with gains of 20 and 31 yards on back-to-back carries to set up a Wil Lutz field goal and cap a 34-31 overtime victory.
"We're very much in the moment with this team ... just finding different ways to win," Brees said of the 8-2 Saints.
"We can say we made the plays we needed to make at the right time."
Hard to argue with that, particularly as it pertained to the record-setting QB.
Brees' late-game completions included downfield strikes of 29, 25 and 24 yards to tight end Coby Fleener, 17 yards to Michael Thomas and 18 yards to Ted Ginn.
"You understand you need chunks, so you can't just dink and dunk," Brees said. "We had to score fast."
Brees' late brilliance left Washington to wonder how it let a victory slip away after being in control for most of the first 55 minutes.
"It stings everybody involved with the Washington Redskins, that's for sure," coach Jay Gruden said. "We just have to bounce back."
And quickly.
At 4-6, the Redskins will miss the playoffs unless they put together a winning streak of their own during their last six games, starting when they host the New York Giants on Thursday night.
Here are some other central storylines emerging from the Saints' comeback against the Redskins:
Dented defense
With three key starters injured, the New Orleans defense was gouged, allowing 456 yards after not allowing more than 347 yards in any of its previous seven games.
New Orleans entered the game without veteran safety Kenny Vaccaro and middle linebacker AJ Klein, its leading tackler. The Saints lost top cornerback Marshon Lattimore on Washington's first possession when he twisted his left.
The difference showed for a unit that had held five of its previous seven opponents to less than 300 yards - and three of them to 200 or fewer.
This week the Saints visit the Los Angeles Rams (7-3), whose offense has been among the league's best this season.
Kirk Cousins entered elite company in Redskins history, passing for 322 yards, three touchdowns and no interceptions.
He now has nine career games with at least three touchdown passes and no interceptions, tying Pro Football Hall of Famer Sonny Jurgensen and Joe Theismann for the most such games in franchise history.
Attacking New Orleans' hobbled secondary, Cousins completed several long passes, including a 40-yard TD to Ryan Grant, passes of 36 and 26 yards to tight end Vernon Davis, and a 32-yard completion to Josh Doctson.
Some streak
The Saints' eight-game winning streak is not only their first since 2011 - when they went 13-3 - but also the first by any team that started 0-2 since the NFL-AFL merger in 1970.
This victory was not like the others, however. New Orleans had an average victory margin of 18.4 points in its previous seven games, which all ended with Brees or backup Chase Daniel kneeling with the ball to run out the final minutes.
No game during the streak was closer than eight points until the thriller against Washington.
"It is unusual for any team to go as long as we have gone with a scoring differential that did not put us defending or in a two-minute mode," Saints coach Sean Payton said.
"We were talking about it on Friday and sure enough it came up. Enough guys did enough good things."
Chris Thompson has been one of Washington's most productive and versatile players this season, with 39 catches for 510 yards and four TD receptions to go with his 294 yards and two TDs rushing.
He scored the Redskins' first TD against the Saints on a 16-yard catch, but broke his right fibula when he caught awkwardly under Saints defensive tackle Sheldon Rankins during Cousins' third-quarter scramble.
"He was doing so great and possibly having a Pro Bowltype season," teammate Samaje Perine said.
"To have him go down like that just sucks."
Associated Press