Feng has a steak in bonus hunt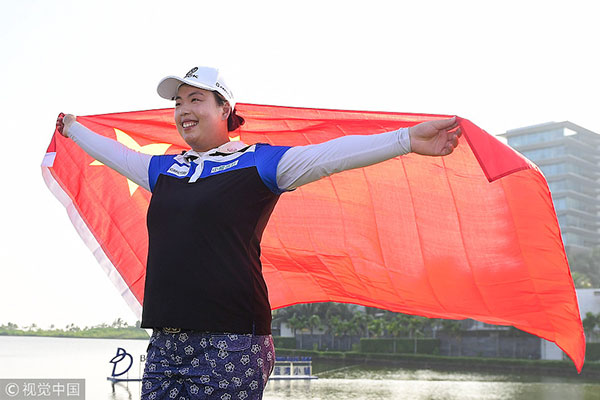 Feng Shanshan poses with the Chinese flag during a photo shoot after winning The Blue Bay LPGA, in Lingshui, South China's Hainan Island, on Nov 13, 2017. Feng is China's first golfer ranked world number one. [Photo/VCG]
China's world No 1 hungry to add $1 million year-end prize
MIAMI - China's Feng Shanshan said on Wednesday she was changing planes at an airport in Dallas on her way to Florida when learned she had officially been crowned the LPGA's world No 1.
"I checked and I was like, 'Oh my God, I'm really world No 1.' So I was really, really excited," Feng said.
"I was by myself at the Dallas airport and I went into a restaurant and I ordered a steak to celebrate. I took a picture of it and sent it to my dad and mom.
"I'm sure they are having much better food back home, like celebrities. After this week I'm flying right back to China. I can't wait to see them."
Coming off back-to-back wins, Feng is taking dead aim at the LPGA's $1 million playoff bonus at the season-ending Tour Championship, which tees off Thursday at Tiburon Golf Club in Naples, Florida.
The 28-year-old from Guangzhou is among five top point-getters from the season's 32 events over 15 countries and regions that can claim the bonus by winning the showdown.
In all, 12 women have a shot at the $1 million prize.
Other season awards are up for grabs as well, including Player of the Year and the Vare Trophy for the lowest scoring average.
If Feng wins the tournament and the $1 million, she's thinking of a nice meal to celebrate and adding to her handbag collection.
"Normally when I celebrate there are two things. One is food. Very good food," Feng said. "Second thing is I'm going to buy myself presents. What I normally get are handbags.
"If I win this week I'm going to win the million, become Player of the Year and then maybe I'll get myself a very nice handbag."
Most Popular
Highlights
What's Hot