Feng has a steak in bonus hunt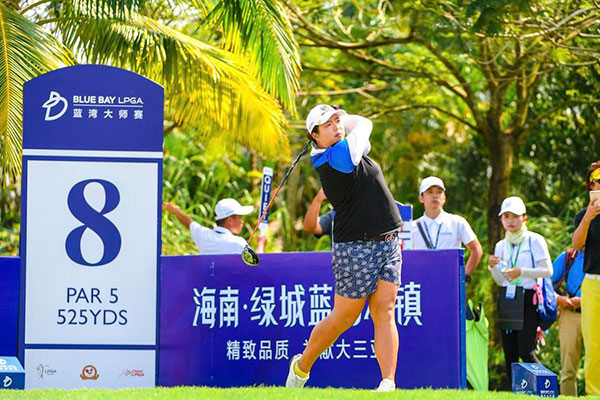 Newly-crowned world No 1 Feng Shanshan of China is among 12 women playing for the LPGA season-ending $1 million bonus at Florida's Tiburon Golf Club this week. CHINA DAILY
Feng, whose father is vice-president of the Chinese Golf Association, says her bronze medal from last year's Rio Olympics might have a greater impact in China than becoming world No 1.
"I think the bronze medal is very big. Last year really showed Chinese people that Chinese can be good golfers, too. Even though our history in the game is not that long, we're competitive.
"I think now that I am world No 1 shows them even more that Chinese can maybe get to the top of the sport."
Feng had imagined she would play 10 LPGA seasons and retire, but as her 10th campaign closes, the nine-time Tour winner whose lone major title came at the 2012 LPGA Championship has no thought of quitting.
"In my rookie year I made a plan of, like, I'll play 10 years in the LPGA and then retire. This is my 10th year already and I'm still here. I'm not going to go away soon," she said.
"I've got a bronze medal in my pocket, so I should try to go for the gold, right? So at least I'll be here for a few more years."
Other players who would take the bonus payoff with a victory include Canada's Brooke Henderson, Lexi Thompson of the US, and two South Koreans: Ryu So-yeon and LPGA rookie of the year Park Sung-hyun.
Ryu has 162 points, three ahead of second-place Feng in the Player of the Year chase, with Park third on 157.
Thompson leads the LPGA in scoring average at 69.147 followed by Park at 69.259 and South Korea's Chun In-gee on 69.269.
Ryu has been hampered by a right shoulder injury that has hindered her for the past few weeks.
"My expectation level with my long game is not really as high as it could be right now," Ryu said.
Park, who won the US Women's Open and leads the LPGA in earnings, could match Nancy Lopez as the only players to win top player and rookie awards in the same year.
Agence France - presse
Most Popular
Highlights
What's Hot