Lippi relishing raising the bar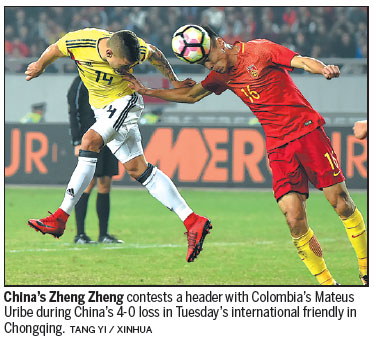 China Cup slate features matches against some of the world's best
Coach Marcello Lippi is looking forward to testing Team China against Luis Suarez-led Uruguay at next year's China Cup - a major part of the country's preparations for the 2019 Asian Cup finals.
Uruguay, which has pledged to take Barcelona superstar Suarez to the tournament, will headline a quality lineup in Nanning, Guangxi province, from March 22-26, with Euro 2016 semifinalist Wales and the Czech Republic also on board.
After a 4-0 friendly loss to Colombia in Chongqing on Tuesday, which followed a 2-0 loss to Serbia in Guangzhou last week, Lippi is keen for his charges to get more minutes under their belts at the four-team invitational tournament.
"It's an invaluable opportunity for us to gauge ourselves against world-class opponents," the Italian said at the launch of the China Cup in Beijing.
"Those high-quality contests will for sure help us improve our competence and offer us great experiences facing tough rivals."
Team China narrowly missed qualifying for next year's World Cup, but earned a direct berth to the Asian Cup as one of the 12 final contestants in Asia for the global showcase in Russia.
The losses to Colombia and Serbia - both of which will compete in Russia - provided yet more evidence China still has a long way to go.
However, Lippi prefers to keep the bar high.
"Only playing against much higher ranked opponents can we improve, as these matches helped us clearly identify the gap between us and world-class teams," Lippi said after the Colombia loss.
Rightback Zhang Linpeng, who plays for Guangzhou Evergrande, agreed, saying: "I think the chance to challenge rivals that we have looked up to is a very helpful experience for us, regardless of the results."
The China Cup had been slated for January before the Chinese Football Association rescheduled it to March to better accommodate the visitors fielding their best lineups during the routine break of European leagues.
Wilmar Valdez, president of the Uruguayan Football Association, said in a video statement that the South American side will send China its strongest possible roster, including Barca striker Suarez and Edinson Cavani of Paris Saint-Germain.
"The tournament is also important for us to fine-tune our roster for the 2018 World Cup next year," said Valdez.
"We will play with our best available players to pay back the support of fans in China."
Suarez, who enjoys a huge fan base here, said in the video that he considers the invitation as "a great honor" and he is looking forward to "hugging my Chinese supporters in person".
Wales is also expected to have a superstar in tow in the form of Real Madrid winger Gareth Bale.
The China Cup is a new FIFA-authorized tournament funded by Chinese property giant and top FIFA sponsor Dalian Wanda Group, which plans to expand the tournament to eight teams in the future.
Reigning Copa America champion Chile won the inaugural championship in January after beating Iceland 1-0 in the final. China finished third after winning a penalty shootout against Croatia.
sunxiaochen@chinadaily.com.cn
Most Popular
Highlights
What's Hot