Dimitrov defeats Goffin to win ATP Finals title, Grand Slam his next target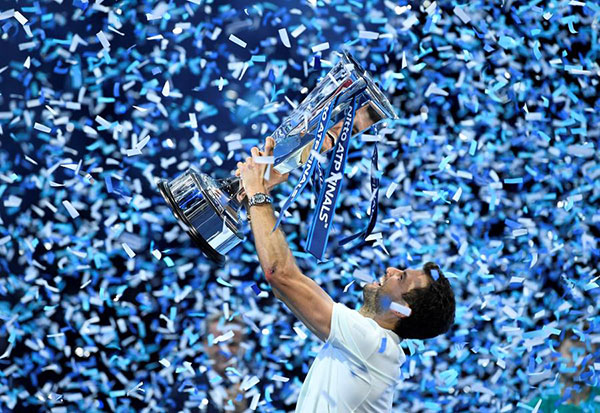 Bulgaria's Grigor Dimitrov celebrates with the trophy after winning the final against Belgium's David Goffin during the ATP world tour finals at the O2 Arena in London, Britain, Nov 19, 2017. [Photo/Agencies]
LONDON - Grigor Dimitrov claimed the biggest title of his career at the season-ending ATP Finals on Sunday, prevailing on his fifth match point to beat David Goffin of Belgium 7-5, 4-6, 6-3.
"It's such an honor to play here," Dimitrov said. "This week has been one of the best I've ever had."The sixth-seeded Bulgarian won in 2 hours, 30 minutes, 15 seconds for the longest final since the tournament returned to a three-set format in 2008.
Dimitrov won all five of his matches at the O2 Arena to become the first player to win the elite tournament on debut since 1998, when Alex Corretja of Spain triumphed in Hanover.
Goffin saved three match points on his own serve, but Dimitrov kept his cool, taking the second opportunity on his own delivery to close it out.
By reaching the final, Dimitrov had already secured a career-high No 3-ranking to end the year. Goffin also moves up to a career-best No 7.
The final lasted more than 11 minutes longer than Roger Federer took to beat Jo-Wilfried Tsonga in 2011. It was a nervous start as both players failed to hold serve in the opening three games before Goffin settled down to control the opener as Dimitrov struggled with his timing.
However, Dimitrov fought his way back into the set. He leveled in the eighth game before breaking once more in the 12th to snatch the set in which Goffin hit eight more winners.
Dimitrov's confidence carried into the second set, where he brought up the first break point in the sixth game, only for Goffin to produce a stunning cross-court backhand winner to save it. The momentum back with him, Goffin broke the following game for a 4-3 lead and calmly closed out the set.
Having come from behind to beat Federer in Saturday's semifinal, Goffin had every reason to be confident and could have gone ahead. But he wasted four break points in the opening game - they would turn out to be his only chances in the decider.
Dimitrov was more clinical, striking in the sixth game to take control. Goffin tested Dimitrov's nerve by saving three match points on his own serve, before saving one on Dimitrov's. However the Belgian's resistance came to an end as he netted a backhand volley, leaving Dimitrov in tears.
AP