Djokovic edges Raonic to qualify for semis of ATP World Tour Finals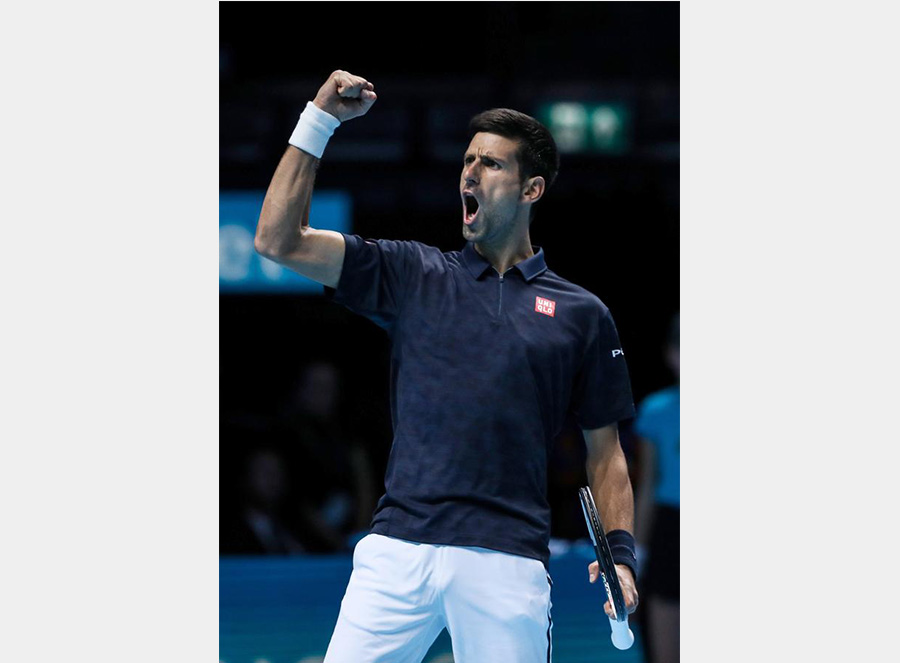 Serbia's Novak Djokovic celebrates during his round robin stage men's singles match against Canada's Milos Raonic at the ATP World Tour Finals tennis tournament in London on Nov 15, 2016. [Photo/Xinhua]
LONDON - Novak Djokovic edged fourth seed Milos Raonic after two tie-break wins to reach the semifinals of the ATP World Tour Finals in London's O2 Arena on Tuesday.
Djokovc, the second seed, beat the Wimbledon finalist from Canada 7-6 (6), 7-6 (5) in his second match of Group Ivan Lendl.
If Djokovic goes on to win the title, he will reclaim his year-end No 1 in the ATP rankings from Britain's Andy Murray. The Serbian now has 11,180 points - 70 more points ahead of Murray (11,110), who will play his second round-robin match against Kei Nishikori of Japan on Wednesday.
Djokovic, who had been No 1 for 122 consecutive weeks until November 7, will next play Gael Monfils of France.
"It was a very close match," said Djokovic. "I think very few points separated us tonight. It really could have gone either way. I was fortunate to get through the first set tie-break. I was down very early in both tie-breaks tonight. But I just managed to stay committed and put pressure on his second serves... Again, two tie-breaks against a big server is a great win and great confidence boost," he said.
In the day's other match, Dominic Thiem defeated Gael Monfils 6-3, 1-6, 6-4 to keep his dream of reaching the last final alive.
"It's very nice to get a win here... I was trying to stay tough in the third set," Thiem said. "I'm very happy with the win," he added.
Thiem will play his final round-robin contest against Raonic on Thursday.