Chants of "Brady! Brady!" started as soon as the New England Patriots quarterback took the field at Mexico City's Azteca Stadium on Sunday, and kept up for most of the afternoon.
Tom Brady felt right at home.
He threw for 339 yards and three touchdowns to the delight of an adoring crowd as the Patriots beat the Oakland Raiders 33-8.
"That was very much a surprise, especially since a lot of the fans at last year's game were very pro-Raiders," Brady said. "Seemed like there were a lot of Patriots fans here today, so that was good to see."
Brady completed his first 12 passes and picked apart Oakland's suspect defense to chants from the amped-up crowd.
The large contingent of Patriots fans in the well-divided crowd for a Raiders "home" game had plenty to cheer about as New England (8-2) dominated from start to finish.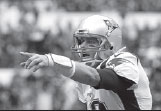 After winning their debut trip to Mexico City last year against the Houston Texans, the Raiders (4-6) were completely overmatched in their return.
Oakland's offense failed to score until Derek Carr threw a TD pass to Amari Cooper in the fourth quarter with the Raiders trailing by 30 points.
"The Patriots don't do anything special ... they just do everything right," Carr said. "
"You sit there and in the first half they don't have any turnovers.
"I don't think they had a penalty all game, and they do all the little things right."
Associated Press
(China Daily 11/21/2017 page23)