Tough overseas training pays off for golden swimmers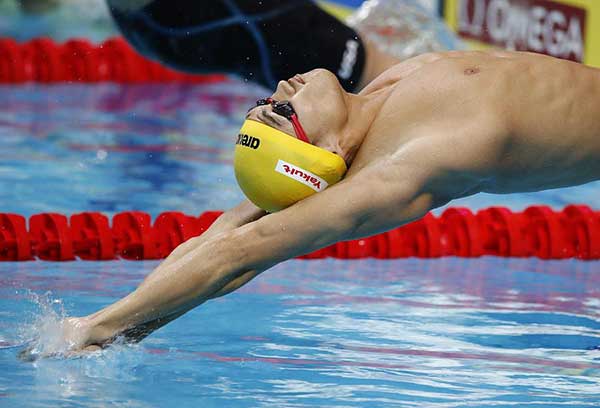 Xu Jiayu wins gold in the 100-meter backstroke on Tuesday at the World Aquatics Championships. Stefan Wermuth/Reuters
Sending its best to the West has paid off for China's national swimming team, which has reaped golden performances at the ongoing world championships.
An ambitious program has sent the country's elite swimmers overseas to train under renowned foreign coaches. The payoff has been seen since Sunday with Sun Yang and Xu Jiayu bagging gold medals at the World Aquatics Championships in Hungary.
Xu, 22, claimed China's first men's 100-meter backstroke world championship gold after clocking 52.44 sec in the final of the sprint event, a physically demanding category long dominated by Western swimmers, on Tuesday in Budapest.
Sun, China's only male Olympic champion, won his second gold at the championships in Budapest in the 200-meter freestyle after finishing in 1:44.39, beating his own Asian record by 0.08. On Sunday, he struck gold in the 400-meter freestyle.
Both swimmers attributed their victories to the sweat and pain they went through at rigorous and effective overseas training camps before the biennial event.
"It wasn't a big surprise for me as I have been improving my results step by step through tough training overseas. It was just a lot of hard work that paid off," said Xu, who won a silver medal in the same event at the 2016 Rio Olympic Games.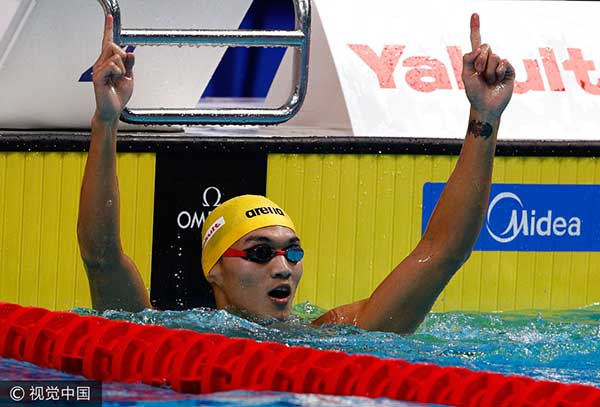 Xu Jiayu of China celebrates winning the gold medal during the men's 100m backstroke final on day twelve of the Budapest 2017 FINA World Championships in Budapest, Hungary, on July 25, 2017. [Photo/VCG]
A product of the national elite swimming program, Xu spent four weeks in the United States with his Chinese mentor, Xu Guoyi, after the Spring Festival holiday to train under a demanding regime with four hours in the pool every day and competition against US swimmers.
At the national trial for Budapest in April, Xu won the 100-meter backstroke in 51.86, a mark just 0.01 slower than the current world record, after growing stronger at the US camp.
"The details such as better prerace warmup routines, the pace of leg thrash and turning techniques are where Xu improved effectively in US. The international exposure and close interaction with foreign swimmers also worked well in easing his anxiety at big-time events," said coach Xu Guoyi.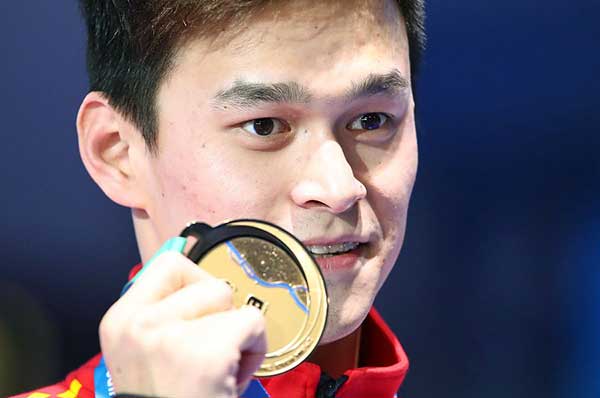 Sun Yang poses with the gold medal after winning the men's 200m freestyle final during the swimming competition at the 2017 FINA World Championships in Budapest, July 25, 2017. [Photo/VCG]
As Team China's top swimmer, Sun is the most prominent example of the benefits of overseas training. Since 2011, he has kept in close touch with renowned Australian mentor Denis Cotterell, a former Australia national coach, and practiced under his guidance at different facilities in Queensland, a cradle of Australian swimming talent, before almost every major event.
Cotterell's expertise in enhancing stroke efficiency and endurance for long-distance swimmers helped Sun win 400-meter and 1,500-meter freestyle gold medals at the 2012 London Olympics, followed by Olympic gold in the 200-meter freestyle in Rio.
Before flying to Budapest, Sun spent almost two months working with Cotterell in Gold Coast, Queensland.
"The foreign environment allowed you to stay fully focused and the training intensity there was unbelievable. I even threw up a few times and thought about quitting at one point. I am happy I pulled through it and the rewards are so worthwhile," said Sun, who hugged Cotterell after winning the 400-meter in Budapest.
According to Xu Qi, team leader of Chinese national squad, the Chinese Swimming Association has renewed agreements with foreign trainers including Cotterell to continue sending swimmers overseas to prepare for the 2020 Tokyo Olympics.
sunxiaochen@chinadaily.com.cn
Most Popular
Highlights
What's Hot