Sjostrom breaks world record in team relay at FINA worlds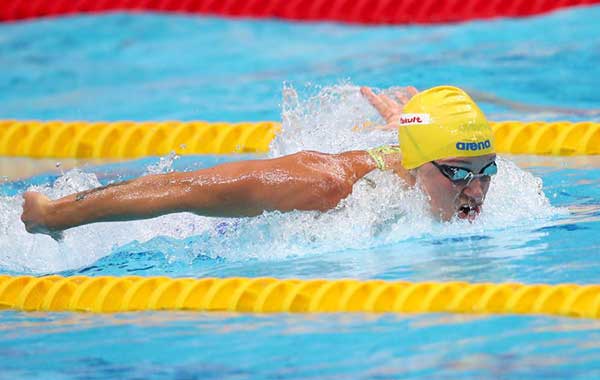 Sarah Sjostrom of Sweden competes in the women's 100m butterfly preliminary at the 17th FINA World Aquatics Championships in Budapest, Hungary, July 23, 2017. [Photo/Agencies]
BUDAPEST - Sarah Sjostrom surprisingly broke women's 100m freestyle world record in the team relay event at the 17th FINA World Championships on Sunday.
In women's 400m freestyle, Katie Ledecky broke the championships record for the second time in a single day, as her time of 3 minutes 58.34 seconds has bettered that of 3:59.06 in the heat.
Her teammate Leah Smith ranked second at 4:01.54. China's Li Bingjie, 15, tasted the bronze at 4:03.25 in her maiden World Championships appearance.
Li, regarding Ledecky as her idol, said that she felt both excited and nervous in the water.
"I felt excited because I have got a chance of competing with my idol. However, it was just my first World Championships, unavoidably, I felt a bit nervous," she said, adding that she was not totally satisfied with the result.
Team USA also snatched two golds in men's and women's 4x100m freestyle relay, but Sjostrom grabbed more spotlight even though the Swedish team only finished fifth in the women's event.
Sjostrom, on the first baton, took on 51.71 seconds to break Australian Cate Campbell's previous world record of 52.06 seconds set last July.
The Chinese team, made up of Zhu Menghui, Zhang Yufei, Wu Yue and Ai Yanhan, followed Sweden to finish sixth.