Sun gracious after hammering Horton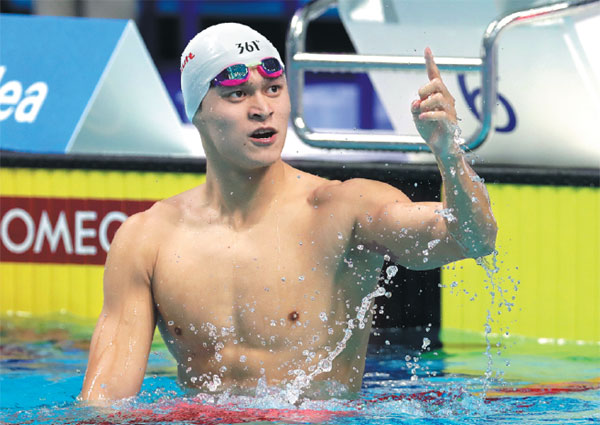 China's Sun Yang celebrates winning the gold medal in the men's 400m freestyle final at the World Aquatics Championships in Budapest on Sunday. It was Sun's third straight gold in the event. Michael Sohn / AP
China's golden tiger adds to legend by whipping Aussie rival in 400m final
BUDAPEST - China's Sun Yang was gracious following his 400m freestyle victory at the World Aquatics Championships on Sunday as he took revenge over Olympic champion Mack Horton of Australia.
Sun clocked 3 minutes 41.38 seconds, finishing 2.47 sec ahead of second-place Horton, who had previously dubbed his rival a dope cheat prior to beating the Chinese superstar at the Rio de Janeiro Games.
Italy's Gabriele Detti clocked 2.55sec to win bronze as Sun dominated the Budapest final, building on his commanding lead at the halfway point.
Horton had taunted Sun again before the Budapest race, saying it was "a rivalry between clean athletes and those who have tested positive".
He was referring to Sun's three-month ban in 2014 for taking a stimulant.
However, Sun enjoyed sweet revenge at the Duna Arena and gave a triumphant shout when he touched the wall first.
But despite taking revenge after his long-standing war of words with Horton, Sun was gracious towards his rival.
"A long time has passed since Rio, we both got stressed, we both calmed down," said Sun.
"I made a renewed effort in my training, especially in the last six months.
"I believe in this event, I will keep doing better and better... and so will he."
Sun's victory means he now has eight world gold medals spanning four championships, dating back to Shanghai in 2011.
He has now won the 400m world title at each of the past three championships after his triumphs at Barcelona 2013 and Kazan 2015.
Having had to eat humble pie, Horton said his time in the 400m final was more painful than the actual defeat.
"I thought I would have been faster; the time stings more than losing," said the 21-year-old.
"I thought I was capable of more tonight, I tried to be stronger in the front part of the race."
Sun could finish with four golds in Budapest, with the 200m, 800m and 1500m freestyle races still to come.