Sun gracious after hammering Horton
Record bid
"It's too early to say," said Sun, 25, when asked if he was targeting four golds, but said he fears none of his rivals.
"There's not much about my competitors that I am afraid of - it doesn't make much sense to be afraid.
"I am not afraid of losing. If you lose, that's just something you have to deal with.
"I don't get anxious anymore about the competition, it's not something you have to take to heart."
Sun's winning time was 1.31 sec behind Paul Biedermann's world record - set at the 2009 worlds during the era when the now-banned neoprene suits were used.
The Chinese star said he is working towards lowering the eight-year-old record - one of the few that still stands from that era.
"It is a really long process," he said.
"It's all about training step-by-step and keep pursuing myself to get better in the 400m freestyle.
"I keep looking out for new ways to enhance my performance, I am satisfied with my progress.
"I'll keep doing more training, I think this is the way to break a world record."
Credit to coaches
"I didn't realize I could win in such a dominant way," added Sun. "My rivals didn't race badly today, but I swam better this time."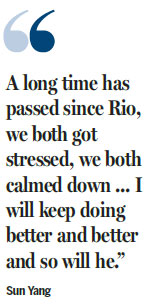 Sun credited the result to his work with coaches Zheng Kunliang and Denis Cotterell.
"My coaches have been working so hard to help me to improve," said Sun, who even cried out during some particularly tense training sessions.
"A few days ago, I even wanted to give up and disappear during training. But then I thought about my coaches. I need to respect them and I want to meet their standards.
"When I worked it out, I made progress."
Cotterell, an Australian, said he was pleased with Sun's performance on Sunday evening.
"He is a great athlete. No matter what I say at the moment, when the time comes for them to get on the block, they have to be the individuals.
"When it comes to the race, it's the moment of truth."
Cotterell added he understood the pressure Sun was under.
"Yesterday we had a good talk about how to reduce the pressure," said the coach.
"The whole nation, friends, trying to please the coach, for a number of reasons. But we have to make sure you don't take it as pressure.
"You try to see it as a support that can lift you up, and inspire. Otherwise it goes another way. It's very easy for all that support to become pressure. I'm just so pleased that he executed the perfect race."
AFP - Xinhua