Peaty breaks 50m breaststroke world record, Sun qualifies for 800m free final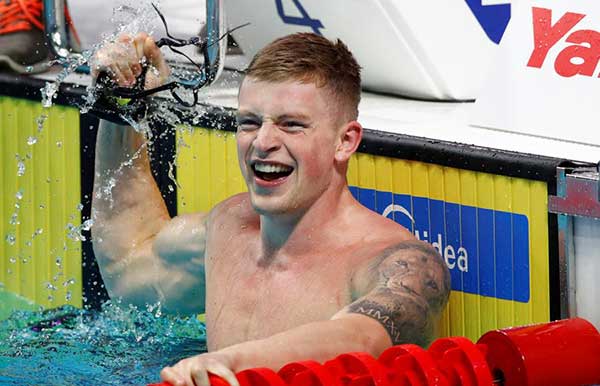 Adam Peaty of Britain reacts after winning the race and breaking a world record in men's 50m breaststroke semifinal at the 17th FINA World Aquatics Championships in Budapest, Hungary, July 25, 2017. [Photo/Agencies]
BUDAPEST - Britain's Adam Peaty continued his dominant play in men's breaststroke as he broke 50m world record in heats at the 17th FINA World Championships on Tuesday, while Chinese swimmer star Sun Yang secured a final spot in men's 800m freestyle with a fifth finish in heats.
Peaty has renewed 100m breaststroke championships record twice in the Hungarian capital, in semifinals and final respectively, en route to defending the event title on Monday.
One day later, he clocked 26.10 seconds to better previous world record of 26.42 seconds, also set by him two years ago in Kazan.
"It's 10 am, and it's quite early for a world record," commented Peaty.
China's Yan Zibei set a new national record at 27.25 seconds, also going through the heats with his 12th position.
Sun, who is expected to compete in four freestyle events in Budapest, finished fifth among all swimmers with 7 minutes and 49.28 seconds. He will appear in 200m freestyle final on Tuesday evening.
"I need to relax and eat something as preparation for the 200m final," said Sun, who has won his third straight 400m freestyle crown.
Italian Gregorio Paltrinieri, 1,500m freestyle Olympic champion in Rio, ranked first with 7 minutes and 45.31 seconds. Another Chinese swimmer Qiu Ziao failed to make into the final.