China wins Snooker World Cup after dramatic comeback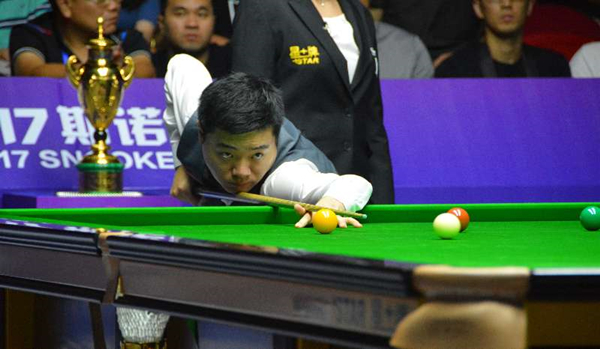 Ding Junhui lines up a shot during the final of the 2017 Little Swan World Cup in Wuxi, Jiangsu province, on July 9. [Photo/chinadaily.com.cn]
Ding Junhui and Liang Wenbo simply would not accept defeat in this 2017 Little Swan Snooker World Cup final in Wuxi, Jiangsu province on July 9, pulling off a stunning comeback to win an epic match 4-3.
The Chinese pair found themselves 3-1 down against the talented English duo of Judd Trump and Barry Hawkins, but they somehow clawed their way back from almost certain defeat to win the final three frames.
The snooker annals will record that Ding and Liang secured China's third consecutive World Cup victory here, and their second as a pair to go alongside their win in Bangkok in 2011.
But the reality was that this match could have been won by anyone, such was the relentlessness of the drama.
By the end, the crowd at the Wuxi Sports Garden Stadium seemed almost to have shouted themselves hoarse as chance after chance was spurned, moments of inspiration followed by almost farcical mistakes.
In terms of quality, the World Cup reached nowhere near the heights of events such as the World Championship. But in terms of tension, excitement and sheer fun, this tournament had it all.
And this drama had the perfect hero in local-boy-made-good Ding Junhui. The world number four put in a thrilling performance in front of his hometown crowd, stepping up when it most mattered to win all three of his singles frames, including the decider.
The opening frame contained no hint of the excitement that lay ahead, however, as Liang and Trump played out a cagey 40-minute game that Trump eventually won 70-47.
But Ding injected some quality into proceedings in the second, pouncing on a miss by Hawkins to hit a 68 break, then making a lovely reverse double into the middle pocket.
When the world number four left Hawkins snookered shortly after, the Englishman had had enough and conceded the frame at 76-21.
Trump also found his form in the doubles frame, capitalizing on two gifts from Liang to put England 2-1 up.
Hawkins then proceeded to outwit Liang in the fourth, winning the frame 72-0, and suddenly China found themselves 3-1 down and facing the prospect of their World Cup campaign ending in anti-climax.