Chinese teams march into semis at Snooker World Cup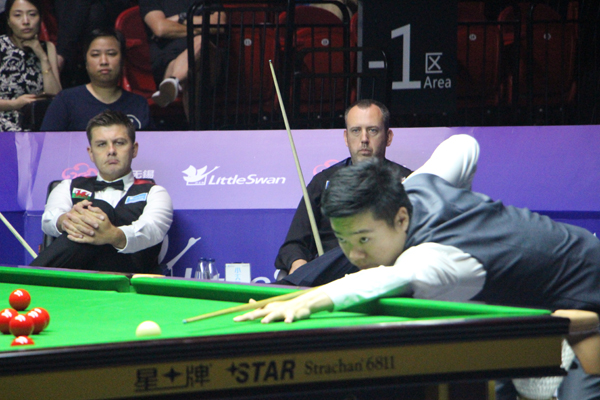 Wales' Ryan Day and Mark Williams watch on as China A's Ding Junhui makes a 62 break in the quarterfinal of the 2017 Little Swan World Cup in Wuxi, Jiangsu province on July 8. [Photo provided to China Daily]
Ding Junhui and Zhou Yuelong were the heroes as both Chinese teams secured spots in the semifinals of the 2017 Little Swan Snooker World Cup in Wuxi, Jiangsu province on July 8.
Local hero Ding arrived to his evening match to a deafening whoop from his hometown crowd, and the world number four seemed determined to live up to this reception as he inspired his China A team to a comfortable 4-1 victory over a talented Wales side.
Liang Wenbo got China A off to a good start by holding his nerve to clear the table to win a tight first frame against two-time world champion Mark Williams.
Ding then showed his ruthlessness by punishing an error by Riga Masters champion Ryan Day with a 68 break, forcing the Welshman to concede soon after and hand China A a 2-0 lead.
The Chinese star was warming to his task now, and in the following doubles frame he racked up a 62 break at a blistering pace, then put the frame beyond Wales after a beautiful table-length long pot from the cushion.
Day kept Wales in the match with an excellent 69 break in response to Liang's 44 to pull the score back to 3-1.
But the next frame paired Ding with Williams, and there was only ever one winner on this form.
The world number four made a rapid-fire 43 before tightening up, but Williams was unable to take advantage and Ding made the frame safe after fluking the green.
"Both sides played in a prudent manner in the deciding frame. We tried to defend against each other and were both reluctant to take risks at the beginning. Both of us had good chances to win, but fortune smiled on us in the end," said Ding.
"Our performances were a bit better than yesterday. Both Ding and I played stable," said Liang.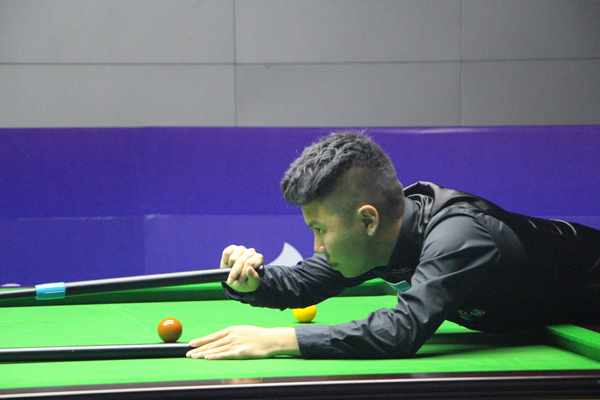 Zhou Yuelong concentrates on his next shot during China B's quarterfinal against Belgium in the 2017 Little Swan World Cup in Wuxi, Jiangsu province on July 8. [Photo provided to China Daily]
Ding and Liang's reward for their victory is a place in Sunday's semifinals against Thailand, who beat Iran 4-1 in the afternoon session.
World number 41 Thepchaiya Un-Nooh and Noppon Saengkham have been one of the surprise packages of the World Cup since beating second seeds Scotland in their opening game.
"We'll pay attention to details and try not to make stupid mistakes," said Liang.
In the evening session, it was Zhou Yuelong's turn to get the crowd on its feet as he helped China B grind out a tough win over Belgium.
Belgium's Luca Brecel had been one of the revelations of the group stages, and the 22-year-old smashed in 65 in double-quick time before making the opening frame safe with an excellent long pot.
But Zhou was determined not to be outshone by the Belgian. When his opponent Jeff Jacobs handed him a table full of reds, he duly cleared up with an impressive 98 break to level the match at 1-1.
And after the teams traded four scrappy, tactical frames, it came down to a straight shoot-out between Zhou and Brecel for a place in the semifinals.
With the match well into its fourth hour, Brecel was starting to look a little jaded, and Zhou took full advantage of a loose safety shot to score a 59 break to leave the Belgian needing snookers.
Brecel refused to give up, laying a tricky snooker for the 19-year-old Chinese star. But Zhou was not to be denied, and duly put the frame beyond the Belgian's reach to secure China B a 4-3 victory.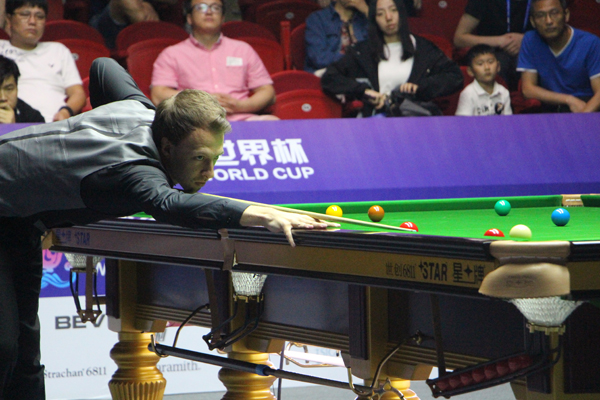 World number three Judd Trump builds another high break during England's quarterfinal with Northern Ireland at the 2017 Little Swan World Cup in Wuxi, Jiangsu province on July 8. [Photo provided to China Daily]
"It was hard for us to win the match as our opponents were in good form," said Zhou. "In the deciding frame, Luca Brecel made a mistake and I seized the chance to secure the victory. I'm very satisfied with my performance today."
However, China B will need to raise their game even further if they are to overcome world number three Judd Trump's England team in their semifinal.
England were the highest scorers in the group stages, winning 22 of 25 frames, and for a while it looked like they would steamroller Northern Ireland in their quarterfinal after racing to a 3-0 lead.
The Northern Irish pair of Mark Allen and Joe Swail refused to give up, and a series of misses by Trump and Barry Hawkins allowed them to take the match to a deciding frame.
But Trump found his top form when it mattered most, winning the decisive final frame with an ice-cool 93 break.
"We threw away a few chances and got really twitchy toward the end, so obviously I'm glad that Judd made that frame-winning break at the end," said Hawkins.
After the match, Trump said that he remains confident about England's chances of winning the tournament.
"If we play our best then we're going to be tough to beat," he said.