Chinese teams give fans a scare at Snooker World Cup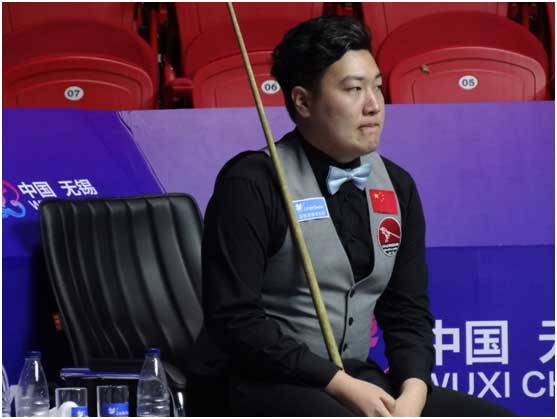 Yan Bingtao feels the tension during the deciding frame of China B's match against Malaysia at the 2017 Little Swan Snooker World Cup in Wuxi, Jiangsu province on July 7. [Photo provided to chinadaily.com.cn]
The Chinese teams gave fans a day of almost unbearable tension at the 2017 Little Swan Snooker World Cup in Wuxi, Jiangsu province on Friday, as both teams flirted with disaster before pulling off last-gasp comebacks to qualify for the quarterfinals.
Both Ding Junhui and Liang Wenbo's China A and defending champions Zhou Yuelong and Yan Bingtao's China B went into the final round of group matches needing a positive result to progress to the knockout stages.
China B needed to match Brazil's result in the final games to secure second place in Group A, while China A knew that whichever team prevailed in its clash with Hong Kong, China, would qualify from Group B, with the loser facing certain elimination.
But both teams quickly made life difficult for themselves.
In the afternoon session, Zhou and Yan found themselves 2-1 down in their match against an unfancied Malaysia side after an error-strewn opening to the match.
With Brazil having secured a surprise 3-2 victory over Group A leaders Wales, the 2015 champions needed to win both the final frames of the match to keep their title defence alive.
After Zhou grinded out a win in the fourth frame to tie the match 2-2, Yan faced a one-frame shootout against Malaysian Thor Chuan Long to keep his team in the tournament.
Even the media room at the Wuxi Sports Garden Stadium fell silent as the final frame got underway, and it was clear that 17-year-old Yan was feeling the pressure.