China wins Snooker World Cup after dramatic comeback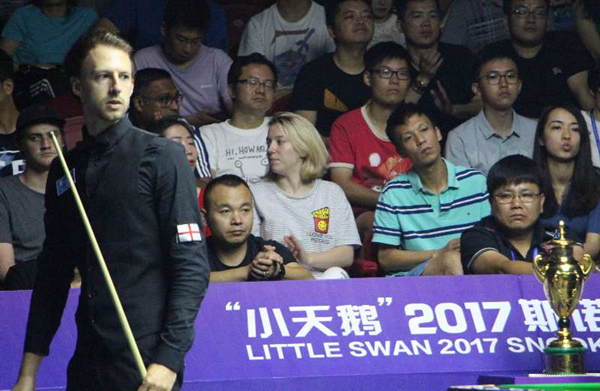 Judd Trump returns to his seat after missing a pot in the final of the 2017 Little Swan World Cup in Wuxi, Jiangsu province, on July 9. [Photo/chinadaily.com.cn]
There was one final twist, as Ding missed a red after a 59 break. But when Trump fluffed a long pot, Wuxi's most famous son made the frame safe to complete an incredible come-from-behind victory.
"In the deciding frame, I thought I wouldn't be beaten by anyone. I had strong confidence in myself," said Ding after the match.
But the hero of the hour was quick to pay tribute to his teammate, whom he calls affectionately by his nickname Dabo.
"Dabo backed me up and strengthened my confidence when I was not playing well in the doubles. It was hard to win the final, but I hope it can be a wonderful memory for everyone," he said.
Liang agreed that the pair's close relationship helped them keep believing even when the odds appeared stacked against them.
"When I wasn't playing well, he would support me, and when he was not in a good moment, I would back him up. We complement each other well and there is a tacit understanding between us," said the world number twelve.
This certainly appeared to be the case as the pair celebrated their victory, the gregarious northerner Liang doing his best to draw a smile from his shy southern teammate by pinching and kissing him on the cheek for the cameras.
Even the losers found it difficult to be too downhearted after the match.
"We thought if we won the World Cup in China we wouldn't be let back in the country, so we let them win," joked Trump.
More seriously, he added: "I think it [the match] was great from a spectator point of view. The whole World Cup's been very enjoyable for everyone. I think there've been a lot of good games, most games have gone down to the wire.
"Overall, it's been an excellent tournament for everyone and I'm very happy to have been involved with it, and hopefully I'll be able to make it back next time."