Beijing Ducks appoint Yannis Christopoulos as new head coach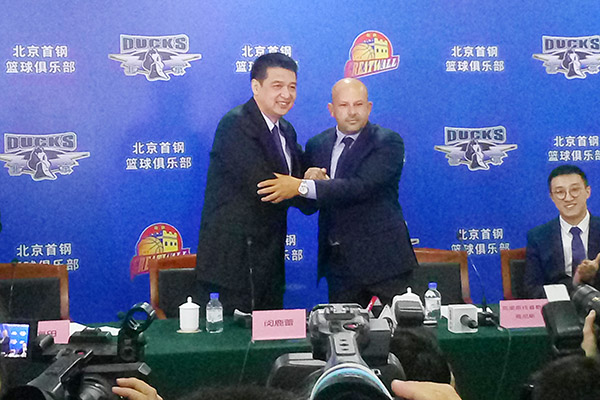 Yannis Christopoulos, center, is appointed as Beijing Ducks' new head coach in Beijing on June 9, 2017. [Photo/provided to chinadaily.com.cn]
Three-time Chinese Basketball Association champions the Beijing Ducks appointed Greek hoops guru Yannis Christopoulos as its new head coach on Friday.
Christopoulos, who assisted former Chinese national squad coach Gong Luming at the 2016 Rio Olympics, has signed a three-year contract with the Ducks. He has been tasked with leading the dethroned league champion back to the top with support from a reshuffled management group.
Citing his previous experience working with the national team, the 43-year-old Greek boasted of his confidence in completing the task despite the team's recent decline in strength.
"I have been here enough years to understand the culture and the mentality as well as how the people are functioning on and off the court in China," said Christopoulos, who started his national assistant role in 2013.
"It's a big challenge (to guide Beijing back to the championship). But I am very positive and confident that with teamwork and patience we will get the team where it belongs."
The Ducks' former mentor Min Lulei will embrace a new role as head of Shougang Sports program, which owns the Ducks, assisting in the management of multiple squads including the women's team and overseeing the development of youth projects.
Led by Min and former star guard Stephon Marbury, the Ducks won three CBA titles from 2012-15 before falling out of title contention last year due to an aging roster.
After failing to advance to the playoffs in the 2016-17 season, the team began to rebuild by terminating its contract with former NBA All Star Marbury in April, axing the star even though he still had a year left on his contract.
"The rebuilding process has not been a rushed decision but something we've long discussed together with the new management team. Yannis was appointed by the club through my recommendation," said Min, who began coaching the Ducks in 1997.
"I don't think of today as me stepping down. My new role is to help him get familiar with the whole team as soon as possible and to establish a better youth system."
Christopoulos will begin by working with the team's scouts to pick new foreign players for the 2017-18 season, which kicks off in November, and prepare the squad for a tournament at the quadrennial National Games in Tianjin in August.
Most Popular
Highlights
What's Hot