China pitted against NZ, HK, S Korea in basketball World Cup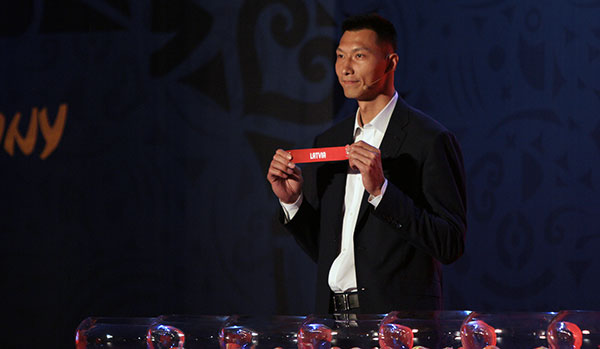 China's Yi Jianlian attends the official draw ceremony of the qualifiers for the 2019 Basketball World Cup in Guangzhou, the capital of Guangdong province, on Sunday evening. [Photo provided to chinadaily.com.cn]
China will play against New Zealand, Hong Kong and South Korea in the Group A of the qualification for the 2019 FIBA Basketball World Cup, after a draw ceremony concluded on Sunday evening in Guangzhou, the capital of Guangdong province.
The star-studded ceremony consisted of four different draws, one for each region: Africa, Americas, Asia (which included Oceania), and Europe.
Starting in November, the 80 national sides will play home and away games across six qualifying windows spanning a 15-month period to be among the 31 joining hosts China in lining out at the first-ever 32 team edition of FIBA's flagship event.
The Basketball World Cup will be held in eight Chinese cities - Guangzhou, Beijing, Shanghai, Dongguan, Foshan, Shenzhen, Wuhan, and Nanjing - in August and September in 2019.
The final will be played in Beijing on September 15, 2019.
On Sunday evening, a newly designed trophy for the World Cup was also unveiled during the official draw ceremony of the qualifiers for China 2019.
For the first time in its history, basketball's ultimate prize is made almost entirely out of gold and features a roll of honor listing all of the world champions.