Ronaldo's radar keeps Real rolling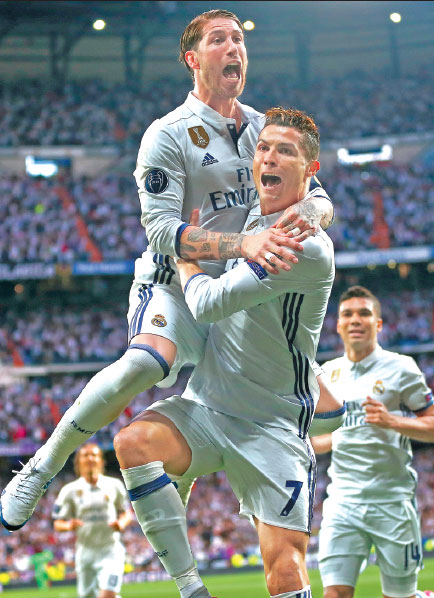 Real Madrid's Cristiano Ronaldo hoists teammate Sergio Ramos after Ronaldo scored the first of his three goals against Atletico Madrid in Tuesday's Champions League semifinal, first-leg match at Santiago Bernabeu Stadium in Madrid. Daniel Ochoa De Olza / Ap
Superstar's 'unique' scoring prowess keeps club on track for another CL title
MADRID - Cristiano Ronaldo's sensational scoring ability was hailed as "unique" by Real Madrid manager Zinedine Zidane on Tuesday after the Portuguese superstar's latest hat-trick left the club on the verge of another Champions League final by thrashing Atletico Madrid 3-0.
Ronaldo's treble was his second against Atletico this season and second straight in the Champions League after notching three goals against Bayern Munich in the quarterfinals.
"Goal scoring is something he has over others, that is what makes him unique," said Zidane.
The victory extended Real's hex over Atletico in the Champions League over the past four seasons.
Real has eliminated Diego Simeone's men in each of the past three years, including in the 2014 and 2016 finals.
There was a distinct disparity between the sides this time, as Ronaldo's header opened the scoring in the 10th minute.
He struck twice more in the final 20 minutes to give the scoreline the reflection Real's dominance deserved.
"The team was tremendous. I scored the goals, but the team was phenomenal from start to finish," said Ronaldo.
The win also kept Real on course to become the first side to retain the Champions League in 27 years.
"It is not easy to score three goals against Atletico," said Zidane.
"We played great. The first half hour was fantastic, we had a lot of chances to score the second, and we got it in done.
"We are very happy with the performance. To score three goals and, most importantly in a (two-legged) tie, keep a clean sheet at home is very important."
Madrid, which is looking to reach its third final in four seasons, was in control from the start at Santiago Bernabeu Stadium and took advantage of Ronaldo's impressive form.
He had scored five in the two legs of the quarterfinals against Bayern Munich, including the hat-trick in the second leg at Bernabeu.
"The team was amazing, it was a complete match," said Ronaldo, who reached the 400-goal milestone in his 389th game with Madrid. "We played well from start to finish."
He opened the scoring after Atletico's defense failed to fully clear a cross into the area.
Midfielder Casemiro sent the ball back in with a bouncing shot and Ronaldo got ahead of defender Stefan Savic to nod it past goalkeeper Jan Oblak.
Ronaldo, Madrid's all-time scoring leader, added to the lead after Atletico defender Filipe Luis lost the ball in a challenge with the superstar, who entered the area and fired a right-foot shot past Oblak into the upper corner.
He scored his 10th Champions League goal of the season with a low shot from inside the area after a pass by Lucas Vazquez.
Ronaldo now has 103 goals in the Champions League, not counting one he scored in the qualifiers, which is three more than Atletico has scored since the new format was created in 1992.
Madrid dominated early on, controlling possession and causing problems for Atletico's defense with set-pieces taken by midfielder Toni Kroos.
Madrid had 11 attempts against only one for Atletico in the first half alone. It ended with 16, against four for Atletico.
"Our first 30 minutes were fantastic, we started with great intensity," Zidane said. "And in the second half we were very effective."
Ronaldo is now just one goal behind Barcelona rival Lionel Messi as the Champions League's top scorer this season, with 10.
Seven of those have come in his past three games, as he struck five of Madrid's six in seeing off Bayern 6-3 on aggregate in the quarters.
"It's great to have a player like him," said Real midfielder Kroos.
"You can play good in defense, control the midfield, but in the end you need a player who will score - and he did. "He always does. He scored five in the quarterfinal and three today, so it's incredible for us."
There were contrasting emotions for Atletico boss Simeone, who refused to give up hope of a miraculous comeback on what will be the final European match at Atletico's Vicente Calderon Stadium on May 10 before the club moves to a new venue next season.
"More than ever, I am calm," said Simeone.
"We have to do something impossible... and being Atletico Madrid, we might be capable of that."
Barcelona pulled off the biggest comeback in Champions League history earlier this season by overcoming a 4-0 first-leg deficit against Paris Saint-Germain.
And Simeone is clinging to the hope of something similarly unexpected.
"We need to forget about this game," said the Argentine. "It seems impossible, but it is football and football has these unexpected things that make it marvelous. Anything can happen. Anything is possible.
"Until the last drip of hope is gone, we will give it everything we have."
AFP - AP
Most Popular
Highlights
What's Hot