Airline apologizes to tennis star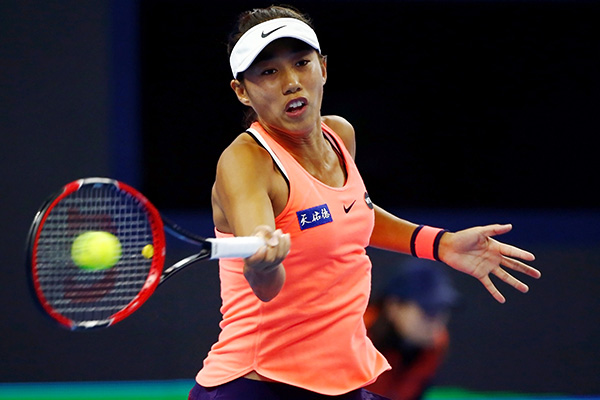 File photo shows China's Zhang Shuai plays against Romania's Simona Halep during the China Open Women's Singles Third Round in Beijing on October 6, 2016. [Photo/Agencies]
United Airlines issued an apology to China's No 1 female tennis player on Thursday after members of its ground crew in Florida refused to allow her onto a flight with her racket bag.
Zhang Shuai, who is 34th in WTA rankings, fired off a series of angry posts on Twitter and Sina Weibo on Tuesday, accusing the carrier of "disgusting customer service" after a dispute at the check-in desk at Tampa International Airport.
She wrote that a female United employee took her tennis bag and tagged it with check-in tape without permission because she believed the baggage exceeded the maximum allowed size.
"When I took a shoulder bag out of the tennis bag, she said I now had three carry-ons and only two are allowed," she wrote on her Sina Weibo. "So I put the shoulder bag back into the tennis bag, but then she said the bag was too big. I started with two carry-ons - one tennis bag and one backpack - both of which fit into the measurement scale ... but she refused to let me board."
Zhang said when she attempted to take back her passport and boarding pass, the employee became aggressive, which resulted in the boarding pass being torn. She was eventually allowed to board after agreeing to put her rackets into one bag.
The argument came about two months after the airline was embroiled in another social media storm when an Asian-American passenger was dragged off a flight.
While saying the dragging was worse, Zhang said: "I truly felt the extremely terrible and disgusting customer service of United."
The airline issued a statement that read: "We're disappointed anytime a customer has an experience that doesn't measure up to their expectations. We deeply apologize ... as what this customer describes does not reflect the positive customer experience we strive to offer."
Zhu Wenqian contributed to this story.
Most Popular
Highlights
What's Hot