Battle over basketball court points to planning problems
Experts say improved management of public spaces would help solve congestion issues
A fight over the use of a basketball court in Luoyang, Henan province, between young basketball players and a group of elderly dancers has highlighted problems that exist with urban management in Chinese cities.
The incident on May 31 sparked debate after a video showing a group of senior citizens quarreling with several young men went viral. The footage showed the row breaking out into a brawl.
"Some elderly square dancers and a group of young basketball players had a disagreement, which turned into a fight over the use of the basketball court," police said.
"They later reconciled their differences."
The park later closed the court and provided another area for the dancers.
A number of netizens defended the basketball players, saying the dancers crossed the line by occupying the basketball court and physically assaulting a young man.
However, others showed sympathy for the dancers, saying a lack of areas for square dancing is a major issue.
China's population is aging, with the Ministry of Civil Affairs saying more than 220 million Chinese were older than 60 by the end of last year.
The government predicts seniors will account for about 25 percent of the population by 2030.
This highlights a rising need for recreational programs among senior citizens. In China, square dancing has become a popular daily activity among elderly residents. But as the seniors bust their moves, a spate of conflicts has erupted across the nation.
In 2014, residents in a district in Zhejiang province used loudspeakers worth 260,000 yuan ($38,260) to blast out music day and night to drown out the noise made by square dancers.
A similar incident happened in Fujian province last year, leading to police involvement.
In 2014, the historic Luxun Park in Shanghai reopened to the public after renovation, drawing a large number of senior dancers. Rival exercise groups tried to snap up space, creating chaos and fights in the park.
Noise made by square dancers has been the cause of many clashes, but experts say insufficient space and poor management of public spaces are to blame.
Yang Hongshan, from Renmin University of China's School of Public Administration and Policy, said public spaces in China are typically built with economic considerations in mind, without catering to specific public needs.
"When public spaces fail to meet a rising demand for rest and recreation, problems are bound to occur," Yang said.
Liu Yaodong from Hubei University of Technology's School of Economics and Management said it is necessary for authorities to conduct scientific planning for leisure activities when developing cities.
"When designing public spaces, authorities should consider the status quo of urban recreational activities," Liu said.
"They should reserve enough space for the future development of recreational activities."
In September 2015, four central government bodies, including the Ministry of Culture, issued a joint circular, asking local governments to utilize existing public spaces to accommodate public leisure activities.
It also said more public cultural venues and stadiums should be open free of charge and that square dancing should be included in grassroots management systems.
But patchy enforcement has rendered the circular mere lip service, according to Tang Lihong of Fuzhou University's Law School.
"Management of public spaces should be more specific, and modern technology such as the internet should be employed to make management more efficient," Yang said.
"For example, reservations made online would help to ensure a more even distribution of human traffic throughout the day to ease congestion in public spaces."
Gu Jun, a sociologist at Shanghai University, said the government should create local social organizations to manage square dancing.
"Shanghai has already started piloting such programs, with the government issuing favorable policies to support the founding and operation of such organizations," Gu said.
Xinhua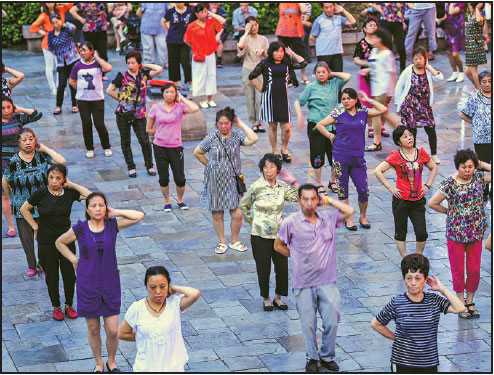 Square dancers gather at Laodongmen Square in Guiyang, Guizhou province.Wu Dongjun / For China Daily