Sharapova might have to wait to learn her Wimbledon fate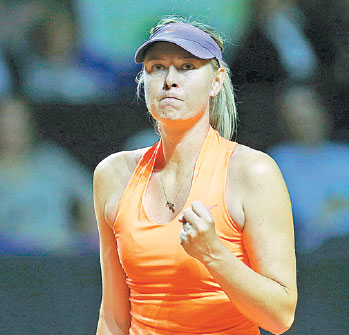 Maria Sharapova of Russia celebrates a point during her victory over Italy's Roberta Vinci at last week's WTA Stuttgart Grand Prix. Reuters
LONDON - Maria Sharapova might have to wait until June 20 to see if she will be welcomed back to Wimbledon this year.
Sharapova, the 2004 champion at the All England Club, returned to the WTA Tour last week after serving a 15-month ban for doping and reached the semifinals in Stuttgart, leaving her ranked No 262.
The Russian's return has sparked controversy on the tour, with some rivals saying she has been given preferential treatment.
The former world No 1 is set to play two more events, in Madrid and Rome, before the deadline for direct entry to Wimbledon qualifying.
Deep runs at those events could earn her enough points to make the main draw, while she will also find out on May 16 if she gets a wild card for the French Open.
Wimbledon chief executive Richard Lewis said on Wednesday there will be a meeting of the tournament's sub-committee on June 20, when it will be clear which players have been accepted into the main draw.
Wimbledon begins on July 3, its latest start since 1895.
Andy Murray, the world's No 1 men's player, said he expects Sharapova to be granted a wild card if she needs one.
"But I'm sure they are hoping they don't have to make the decision," Murray said at the launch of the Queen's Club tournament, a warm-up event for Wimbledon.
"There's a good chance that she can get in by right, which I'm sure is what she's hoping for and that's what Wimbledon would be hoping for."
Lewis said qualifying at nearby Roehampton would be a ticketed event for the first time, and that action on one of the courts will be broadcast live.
He said this was not linked to the possible appearance of Sharapova, but because of the upsurge in interest in qualifying matches.
Lewis also announced there will be a 12.5 percent increase in total Wimbledon prize money, to $40.8 million.
Winners of the singles titles will each pocket $2.85 million, a 10 percent increase from 2016.
First-round losers will receive $45,000, a 16.7 percent increase from 2016, as Wimbledon officials say they are placing more emphasis on helping lower-ranked players.
In another development, All England Club chairman Philip Brook said two-time Wimbledon finalist Ilie Nastase will not be invited to the Royal Box on Centre Court.
The 70-year-old Romanian has been provisionally suspended by the International Tennis Federation following his comments about the skin color of the baby Serena Williams is expecting, and his foul-mouthed outbursts during a recent Fed Cup match between Romania and Britain.
"What he did, we have to say, his actions were not very good and we condemn them," Brook said.
Nastase was overheard making an apparently racist comment about Williams' unborn baby when he said: "Let's see what color it has. Chocolate with milk?"
The two-time Grand Slam winner also asked British captain Anne Keothavong for her hotel room number and verbally abused umpire Jaume Campistol and referee Andreas Egli before swearing at Keothavong and British player Johanna Konta as he was banished from the court.
Nastase was escorted out by security staff and banned for the rest of the tie.
A national icon in Romania, Nastase defied the ban by briefly returning the following day. He pointedly refused to apologize in the immediate aftermath of the controversy, saying he had no regrets.
Nastase, who twice finished as runner-up at Wimbledon in the 1970s, is awaiting sanction by the International Tennis Federation after being hit with a provisional suspension.
AP - AFP
Most Popular
Highlights
What's Hot