Sharapova lights it up in return
Reinstated Russian would 'play juniors' for a shot at French Open, Wimbledon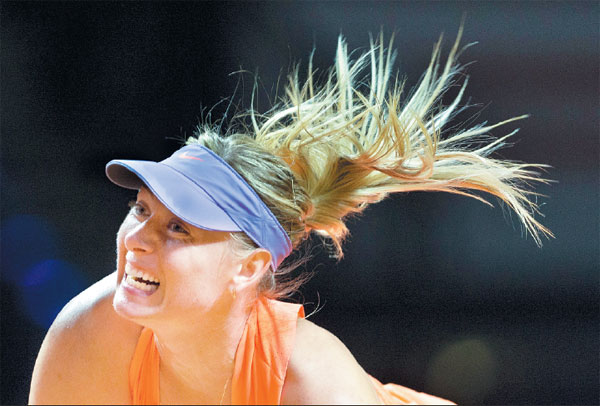 Maria Sharapova of Russia serves to Italy's Roberta Vinci en route to a 7-5, 6-3 victory in the Grand Prix tournament in Stuttgart, Germany, on Wednesday. Sharapova was given a lukewarm reception by the 4,500 spectators upon her return to the tour after a 15-month doping ban. Daniel Maurer / Dpa / Ap
STUTTGART, Germany - Maria Sharapova says she would "play in the juniors if I have to" in order to compete at the French Open and Wimbledon - but has no interest in building bridges with her rivals after making her comeback from a doping ban.
The Russian superstar marked her return from a 15-month ban on Wednesday with a 7-5, 6-3 first-round win over Roberta Vinci at Stuttgart's WTA tournament after being given a wild card.
She described victory as the "best feeling in the world" as the former world No 1 returned after testing positive for meldonium at the 2016 Australian Open.
Sharapova has also been granted wild cards into the Madrid and Rome WTA tournaments, but must wait until May 16 to learn if she will get a wild card for the French Open.
She was very clear she will take any chance to try to win a third French Open title at Roland Garros, which starts on May 22, or Wimbledon in July.
"I'd be prepared to play in the juniors if I have to," she replied when asked about her desire to play the French Open or Wimbledon.
"Everyone in this room knows what a competitor I am and if there is an opportunity to be in the draw, I will take it.
"I have been offered wild cards and I am accepting them.
"I am not getting a trophy or a golden platter, I have to win these games. That is my job."
The organizers' decision to parachute Sharapova into the main draw in Stuttgart, where she has been champion three times, drew harsh criticism from rivals who believe she received preferential treatment.