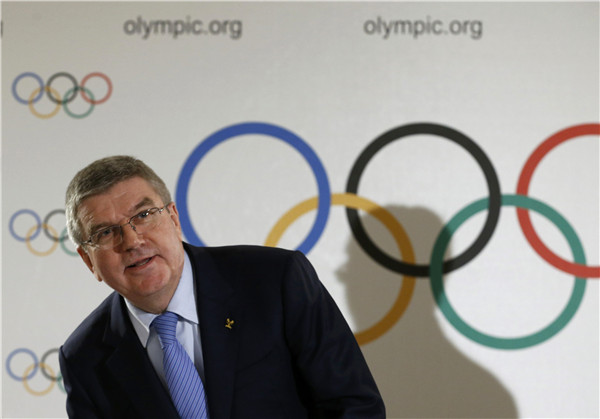 International Olympic Committee (IOC) President Thomas Bach attends a news conference after an Executive Board meeting in Lausanne, Switzerland, Dec 8, 2016. [Photo/Agencies] 
PYEONGCHANG — IOC President Thomas Bach says "all options are on the table" to award an Olympics to both Los Angeles and Paris.
Bach says the IOC board asked its four vice presidents to "explore changes" in the Olympic bidding process and report back in July.
Bach has repeatedly hinted at picking both LA and Paris by awarding 2024 and 2028 Summer Games hosting rights at the scheduled 2024 vote in Lima, Peru, in September.
Bach says the IOC has "two excellent candidates," and the four-man working group will make proposals to the board and full membership.
They meet in Lausanne, Switzerland, where LA and Paris will present their 2024 hosting plans.
A full IOC meeting can change the Olympic Charter which says host cities must be picked seven years in advance.
Associated Press