China eyes curling, snowboard halfpipe golds in PyeongChang 2018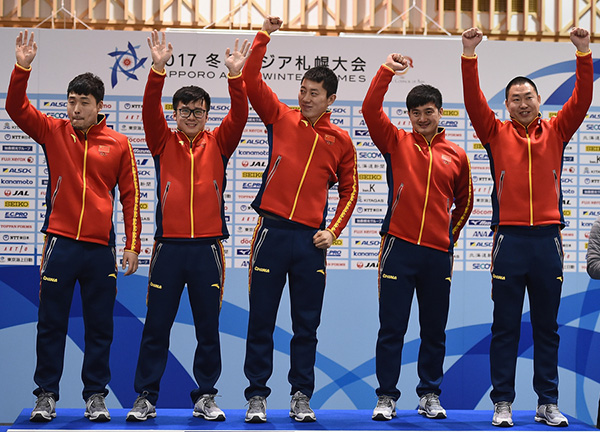 Team China celebrate winning the gold medal during the gold medal game between China and Japan on day seven of the 2017 Sapporo Asian Winter Games at Sapporo Curling Stadium on Feb 24, 2017 in Sapporo, Japan.[Photo/VCG]
SAPPORO - Although the third-place finish at the 8th Asian Winter Games was not satisfying for China, the titles in snowboarding halfpipe and curling were encouraging.
"We have gold medal potentials in some sports, like curling, halfpipe, and snowboarding giant slalom," said Ren Hongguo, secretary general of the Chinese delegation, here on Sunday.
"China had only won Olympic gold medals in figure skating, short track speed skating, speed skating and freestyle skiing aerial skills," said Ren. "We hope we can win in some other sports at the PyeongChang Games."
Chinese snowboarders swept the halfpipe, while the curling team picked up both the men's and women's gold medals at the Asian Winter Games for the first time.
China had targeted to finish second in the medal tally but lost to South Korea at last, ranking third with 12 golds. Host Japan took the overall lead.
"We are still far behind our neighbors in winter sports," Ren said. "The PyeongChang Games is less than a year to go, and we will focus on our tradition strong sports, and at the same time try to win more in other sports."
As the host country of the 2022 Winter Games, China expects a big progress in winter sports.
China is planning to expand its winter sports population to 300 million and turn to world-class foreign coaches to help.
"By 2022, we should have made big improvement in some traditional winter sports, like speed skating and cross-country skiing," Ren said. "One good speed skater can win three or four gold medals in different distances at an Olympic Games."
Most Popular
Highlights
What's Hot