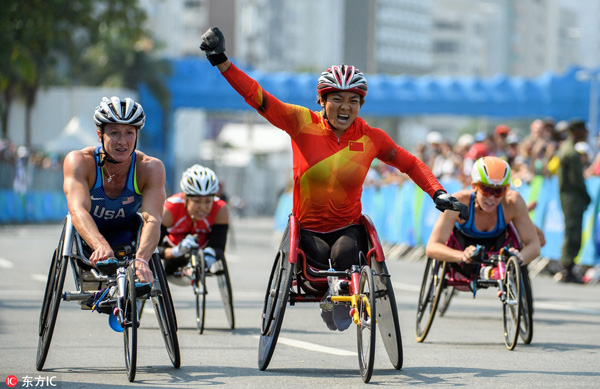 Zou Lihong of China, center, wins the gold medal in the event ahead of silver medalist Tatyana McFadden of the United States, left, during the Women's T54 marathon in Rio de Janeiro, Brazil, Sept 18, 2016. [Photo/IC]
RIO DE JANEIRO - China claimed two marathon victories on Sunday's last day of the Rio Paralympics to take their final gold medal haul to 107.
Zou Lihong was awarded the women's T54 marathon gold after a photo finish with American Tatyana McFadden.
Both athletes crossed the line in one hour 38 minutes and 44 seconds and it was only after scrutiny of video replays that Zhou was declared the winner.
McFadden's US teammate, Amanda McGrory, took bronze in 1:38.45.
China's Li Chaoyan won the men's marathon T46 in 2:33.35.
Spain's Abderrahman Ait Khamouch grabbed silver in 2:37.01 and Portugal's Manuel Mendes bronze in 2:49.57.