What a truly Olympian feat.
At the Rio Paralympic Games on Monday, four participants with partial disabilities proved that, when it comes to running, they are in no way inferior to other athletes.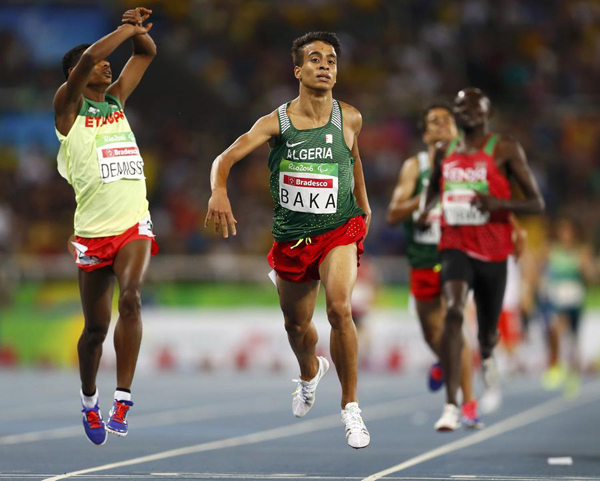 Abdellatif Baka of Algeria (C) wins the gold medal in the event while Tamiru Demisse of Ethiopia (L) takes the silver. [Photo/Agencies]
The 1,500-meter final witnessed a stunning outcome, as the top four finishers achieved faster times than the Olympic Games gold medalist.
Algeria's Abdellatif Baka won the T13 class 1,500-meter race at Maracana Stadiumin Rio de Janeiro. However, incredibly, the first four athletes to finish were all faster than Matthew Centrowitz of the United States, who won gold at the Olympics last month.
Baka set a world record of 3 mins 48.29 secs for victory - more than 1.7 seconds faster than Centrowitz.
Some might assume that, with a time that fast, the race in this class of 1,500-meter final involved runners on blades. But the T13 class is for visually impaired runners, and otherwise the race is exactly the same as the Olympic race. (The T11 and T12 categories also are for runners who are visually impaired; the T11 race is for the most visually impaired, while the T13 is for those with the least impairment.)
The Algerian was not the only one in the T13 class to do better than the Olympic field. Tamiru Demisse of Ethiopia took silver in 3:48.49, while Henry Kirwa of Kenya finished for the bronze at 3:49.59.
Fouad Baka, meanwhile, the brother of the gold medalist, finished outside the medals but clocked 3:49.84 - again ahead of the Olympic Games gold time.
"It wasn't easy to get this gold medal," Abdellatif Baka said. "I've been working one or two years nonstop, and it's been very, very hard for me."