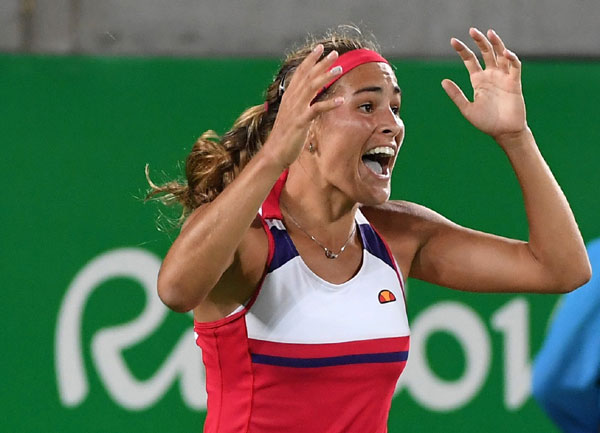 Monica Puig of Puerto Rico celebrates winning tennis singles gold. [Photo/Agencies]
But gender gap still plays a role, with more events for male athletes
From the dizzying heights of US gymnast Simone Biles to Indian wrestler Sakshi Malik and Brazilian golden girl Rafaela Silva in judo - Rio proved a groundbreaking Games for women.
Usain Bolt and Michael Phelps had already arrived in the host city as global superstars of athletics and swimming, but newcomer Biles' amazing acrobatic skills also won star billing with her record-equaling four golds and a bronze at her first Games.
The 19-year-old became the second African-American after Gabby Douglas in 2012 to win the all-around title, ending the Games in the spotlight by carrying the US flag at the closing ceremony.
"I'm not the next Usain Bolt or Michael Phelps," the Texan said. "I'm the first Simone Biles."
Despite the shining success of Biles, a gender gap remains, with 169 events for men in Rio compared with 137 for women.
But the Games still had many firsts, with judoka Majlinda Kelmendi winning Kosovo a gold at its maiden Games and Monica Puig giving Puerto Rico tennis gold.
"I just proved that even after we survived a war, if they (children in Kosovo) want something they can have it," Kelmendi said.
Silva, 24, who grew up in a violent, poverty stricken Rio slum, won special mention from IOC president Thomas Bach as the Games drew to a close.
"Rising from the favela to become Olympic champion, when you look at her childhood and what she had to overcome, she's an inspiration across the world," Bach said.
Malik also told how she had to overcome prejudice to become India's first medalist with a bronze in freestyle wrestling.
The 23-year-old from Rohtak, 76 kilometers northwest of New Dehli, said her parents were criticized when she started wrestling.
"I want to say that girls can also do a lot if you give them confidence," said Malik, who carried the Indian flag at the closing ceremony.