Li Qian wins first Olympic medal for Inner Mongolia in Rio
(chinadaily.com.cn)
Updated: 2016-08-22
On Aug 20, the Inner Mongolian athlete Li Qian won the bronze medal in the women's Olympic middleweight (69-75kg) boxing competition, the first Olympic medal for Inner Mongolia ever, and China's third boxing medal in Rio.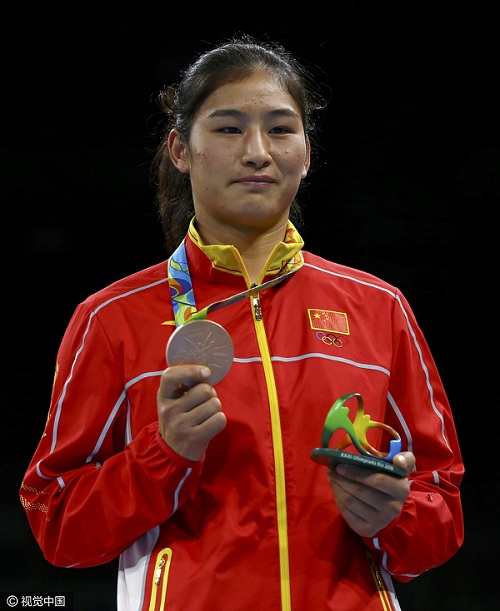 Li Qian presents the bronze medal of the women's Olympic middleweight (69-75kg) boxing competition on the podium in Rio de Janeiro, on Aug 20. [Photo/netease.com]
In the quarterfinals, Li beat the Brazilian boxer Andreia Bandeira 3-0, entering into the semifinals. Li was then beaten 2-1 by the Dutch athlete Nouchka Fontijn, who won silver, but was still awarded a medal in line with the rules. Boxers entering the semifinals at the Olympics are all awarded medals.
The gold was taken by Claresa Maria Shields from the United States, with the other bronze medal going to Dariga Shakimova of Kazakhstan.
In the post-match interview, Li set herself the goal of winning gold at the Tokyo Olympic Games in 2020.
Li's coach, Hadad Bartle, expressed his pride in Li's performance, noting that it was the first time that she had competed in the Olympics, and this bronze medal would inspire her for further progress.
Born in 1990, Li Qian studied at the vocational sports school of Inner Mongolia and later enrolled in the boxing team for the region in 2007. From 2012 to 2015, she won three gold and four silver medals during national, Asian and world competitions. In 2014, she won silver in the women's 75kg boxing at the Incheon Asian Games and the second place of World Women's Boxing Championships.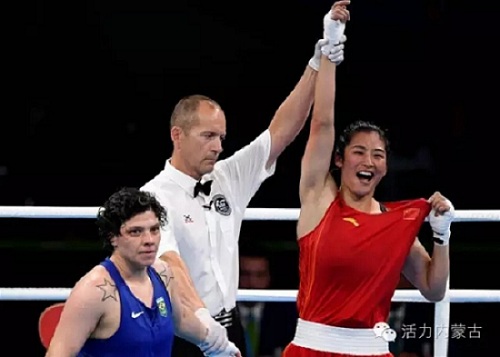 On Aug 18, Li Qian (right) beats the Brazilian boxer, Anfreia Bandeira (left), entering the semifinals of women's middleweight (69-75kg) boxing competition in Rio Olympic Games of 2016. [Photo/northnews.cn]